Wheel Family Fun: Darren Piotrow tackles hill climbing for a third time | Family cycling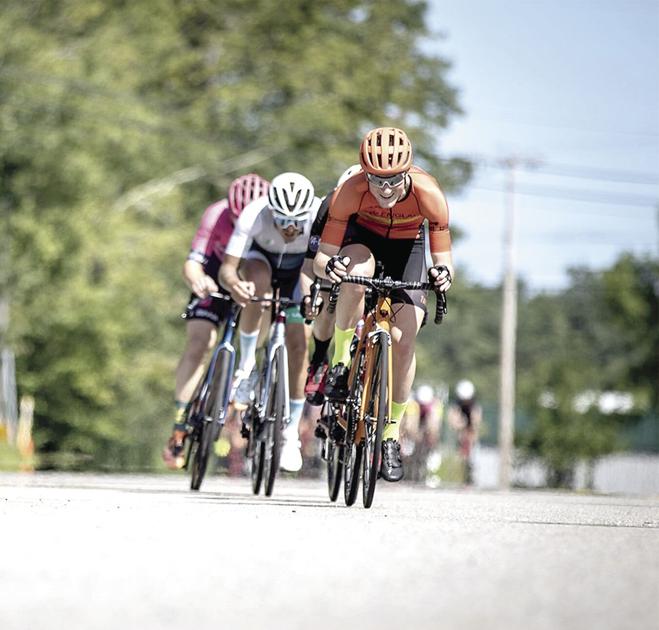 In 2017, I wrote about a young rider from Jackson, Darren Piotrow. He was cycling up Mount Washington Auto Road for the first time. When I interviewed him he gave me this reason for trying it: "With Mount Washington being one of, if not the most prestigious of hill climbs, I wanted to give it a try and see how much time I could spend. "
His "realistic" goal was to do it in 1:05, his "hit" goal was one hour flat.
When I spoke to Darren on Wednesday, I asked him about this first hill climb experience. He finished with a time of 1:06:57, placing second among men aged 1 to 19 and 19th overall. It's not bad for a first try!
Darren said he came out too hard in the first mile, not giving him much energy for the second half of the race. He struggled in the gravel road section, but still had a respectable finish.
Darren had a lot of support for this race. Her mother, Meredith, and her father, Steve, are avid and competitive cyclists. They encouraged him. Steve was often his training partner. With his registration fee covered by a scholarship from the Mount Washington Valley Bicycling Club, all he had to do was work out.
Another Jacksonian, the late Dick Devellian, offered his support. Devellian has organized and led MWAR Bicycle Hillclimb for many years and participated often. He loaned the young rider a lighter saddle and crank / chain ring set with an easier crank gear. Darren still remembers his generosity and kindness. He is happy that Dick's son Leo is at this year's race to honor Dick and climb the mountain in his memory.
In Darren's second run on the mountain in 2018, he used his first experience to plan a better running strategy. He was racing in the "elite" category, having earned this place by posting a previous race time of less than 1:10 and because he was also a category 2 amateur rider. After being caught in the "push" of the first kilometer he called it back and found he had energy for the remainder of the climb. Although the gravel terrain and cross winds bothered him, he got away with it. The last 100 meters, when he heard people applauding, he got goosebumps. With a good sprint to the top, he finished quickly.
Darren's rise time in 2018 was 1:01:31 – 5 minutes and 26 seconds faster than the previous year! He was seventh overall. Now in the very competitive 20-34 age group, however, he failed to get on the podium. Six riders in front of him were in the same category.
In 2019, Darren did not climb hill climbs and there was none in 2020 due to COVID-19. This year, he will be there for his third try. He will ride again in the elite group. His goal is to save another 5 minutes of his time and reach the top in less than an hour. He would be happy with 56/57 minutes.
In the years since his last race in Washington, Darren has gained more racing experience. After a year of college studies at Bishop's University in Quebec City and a semester at UVM, Darren decided that full-time schooling was not the job of a cyclist. He decided to take online classes at Southern New Hampshire University. This allowed him to fit into the training and racing he needed to be a competitive cyclist.
Darren joined a cycling club, the New England Development Team (NHDEVO Team) in Boston. He has been riding and racing with them for two years in the U23 team (under 23). His current race bike, an Allied Alfa, came to him through the team's sponsor, an Arkansas company that makes carbon fiber bikes.
Thanks to his team connections, Darren found a CCNS (Charles Coaching Nutrition Services) coach. He designs Darren's training program. This helps him focus on sticking to his plan and getting the best workout.
Using a power meter as a training tool helped Darren focus on his running effort. He knows he has to stay in a certain area for an hour to reach his race goal. The meter shows him the force he is exerting on the pedals and translates it into watts. It gives him a good idea of ​​what he can do. With the counter, he can simulate the effort he will need to reach his Washington goal.
I asked Darren if he was planning on doing anything special with his bike for hill climbing. As his bike already has a setup that he is comfortable with, he doesn't plan to change much. It will have a larger cassette in the back and borrows lighter wheels from a friend. They will save it critical ounces and could make a real difference in its speed.
Darren is thrilled to be doing the MWAR Bicycle Hillclimb again. He thinks Tin Mountain is a great organization and does a good job of organizing the race. As a child growing up in Jackson, he knows firsthand the important work they do for the community and supports their efforts.
The road racing season in New England generally runs from April to September. Darren has already participated this year in the Scarborough Summer Criterium Series; the Hincapie spring series; and Chasing the Wild Boar Time Trials and Road Race.
In May, he rode Crank the Kanc and placed sixth overall, third in his division (men 20-29), with a time of 1:02:49. It's fast!
After completing the MWAR Bicycle Hillclimb this Saturday, he will be training for his favorite race, the Green Mountain Stage Race on Labor Day weekend. The four-day event includes a time trial, circuit race and road race. Along the way, runners must conquer the grueling climb of the Appalachian Gap. The event ends with the Burlington Criterium Race. This is "the biggest Pro / Am road stage race east of the Mississippi!" No wonder Darren likes it!
Once the racing season is over, Darren will continue to train, but he may take time off to gravel. Once the snow is there, he will go indoors on a trainer or outdoors on cross-country skis. He finds skiing a great complementary exercise to cycling. In addition, he loves to slide on the snow, it was his first sport!
Last February, Darren trained in South Carolina with a cycling friend for two months. He later traveled with the New England DEVO team to a training camp in North Carolina. In the meantime, he has been working on his online courses. He now has an associate's degree and is working on his four-year degree in communications.
Darren's current goal is to become a professional cyclist. He thinks he has the ability and certainly has the desire. In the future, he would also like to use his writing skills to get into sports journalism. Considering his knowledge of cycling and Nordic skiing, it would be a good career path for him.
For now, there is a race to go and a goal to reach. Will Darren cross this hour? Considering his drive, abilities and training, I bet he will. Good luck to Darren and all those other runners trying to conquer the mountain!
The 48th edition of the Mt. Washington Auto Road Bicycle Hillclimb, scheduled for this Saturday, August 21. She benefits the Tin Mountain Conservation Center. For more information on the race or to register, please visit the race website: mwarbh.org.
Summer Race Series mountain bike race: Saturday August 28, Gorham, on the Coos Cycling Club trail network. This is the fourth in the series of five races. For more information and to register, visit tinyurl.com/2f87mwkr.
Sally McMurdo is a bicycle safety instructor and cyclist who lives in Conway.