The incredible story of how a London cab driver gave Michael Schumacher his big Formula 1 break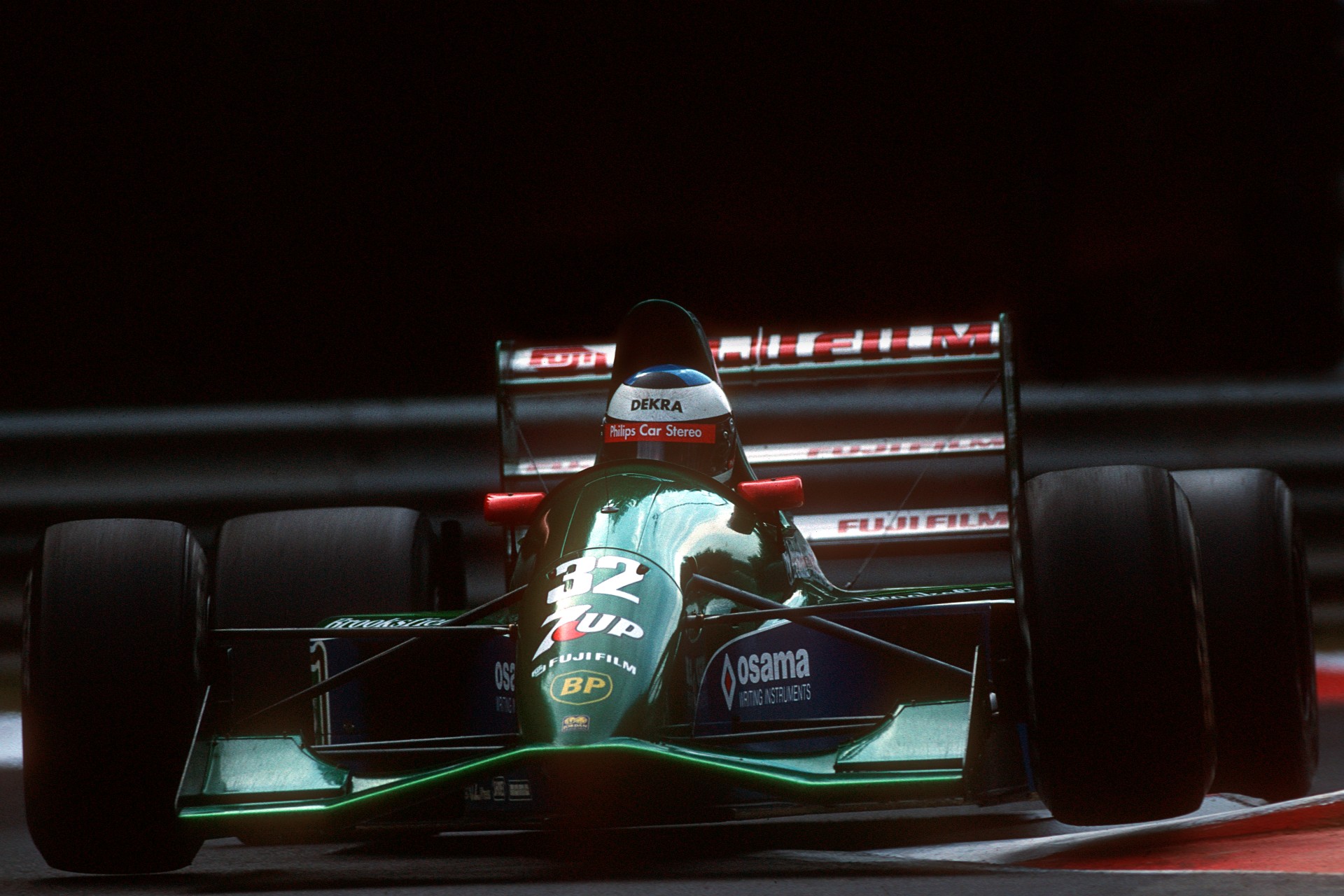 In 1990, Michael Schumacher was a promising young driver. He was competing in the World Sports Car Championship with the Sauber-Mercedes team and was on his way to winning the German Formula 3 title. While he was a fast and talented racer, no one spoke of him as the next big one. Formula 1 superstar.
There are rare occasions in life when bizarre incidents lead to incredible opportunities. The story of how Michael Schumacher got his chance in Formula 1 is one of those moments. This is how a meeting between a French racing driver and a London taxi driver led an Irishman to try his luck in Formula 1.
The Irishman, the Frenchman and the London Taxi Driver
In December 1990, Irish businessman and Jordan Formula 1 Team owner Eddie Jordan was in London to meet one of his team's drivers, Frenchman Bertrand Gachot. They had planned to meet at the Carlton Towers, and Gachot had a few cars ahead of Jordan as they entered Hyde Park in the city.
While Gachot maneuvered his girlfriend's car in London traffic, a London taxi driver tried to beef up his black cab in front of the Frenchman. Talk to Beyond the grid podcast, Gachot explained the incident that followed: "In December 1990, I was in London, and I was driving my girlfriend's car, it was a French car, and basically I had tear gas because in France, tear gas is considered the perfect means of defense, it does not degenerate. You just sprayed tear gas. Everyone has tear gas in their eyes and walks away because you don't want to fight.
"When I got to Hyde Park Corner I was going to a meeting at Carlton Towers with Eddie [Jordan], Eddie was a few cars behind me, and we were on the phone.
"We [Gachot and the taxi driver] had an argument, he wanted to cut the line, and I didn't want to let him in because I was stupid. Finally he got in and I pushed him because he tried to brake test me. I said to test the brakes again, and I push the guy.
"I pushed him with my car to tell him I wasn't happy. There was no damage. It was bumper to bumper when I parked the car because we were stopped in traffic. I just nudged him, and the guy got out of the car and opened my door and said he wanted to kill me and stuff.
"I haven't had a worse idea than to use tear gas and spray it with that and say go away." I had no idea it was considered a weapon in the UK.
Gochot's actions sparked a near riot in the streets, with other taxi drivers stopping to intervene before police descended on the scene. Panicked, Gachot hid the CS gas cylinder in a toilet tank in a nearby building before the police took him away.
Police charged him with actual bodily harm and possession of a prohibited weapon.
A trial, an unexpected result, and the signing of a future legend
After his arrest, Gachot was to be tried in nine months. This put his day in court in an awkward way a week before the 1991 Belgian Grand Prix at Spa-Francorchamps.
During the trial, Gachot showed up in the courtroom with his packed luggage, expecting a small fine and to be on his way. He was supposed to be at the Monza circuit in Italy for a test before the next Grand Prix. Gachot, the press and his team were shocked when judgment fell, and he is set to serve 18 months in prison.
Gachot describes how he felt at the time: "I really didn't expect it. I took the advice of three different lawyers, and they said, 'Look, you're going to get a slap on the wrist. The worst you can get is a conditional sentence.
"It was truly an incredible event. I was absolutely not ready for this. Two years in prison was the heaviest sentence ever given to anyone who uses tear gas, even to attack someone. "
With Gachot locked in jail, Eddie Jordan was driverless for his team's second car. One week before the Belgian Grand Prix, the only drivers available were receiving a large salary. Something little Jordan F1 Team couldn't afford.
Using all of his business acumen, and in a clever move that would become a hallmark of his time in Formula 1, Eddie Jordan negotiated with the Sauber-Mercedes World Sportscar Team for a young Michael Schumacher to lead the race. Mercedes-Benz, which held Schumacher's contract, agreed to pay Eddie Jordan $ 150,000 to put the young German in the seat. For a small, desperate team looking for cash, this was a huge win.
There was one small problem, however. Michael Schumacher had never raced on the Spa circuit before. A fact that Eddie Jordan and the Jordan F1 Team did not know.
A folding bike, a hostel and a brilliant qualifying round
Michael Schumacher now had his chance for a career in Formula 1. Most drivers who are lucky enough to drive in the series spend months and sometimes years preparing for their first race. Schumacher had seven days to learn a track he had never taken and a car he had never driven.
The Jordan F1 team organized a test day at the Silverstone circuit in England. Schumacher would have 20 laps to familiarize himself with the Jordan 191 F1 car. At the end of his race, Schumacher set a better time than the team's previous fastest lap on the circuit.
With driving the sorted car, Schumacher set out to learn the Spa-Francorchamps circuit. Spa is known as one of the greatest road racing circuits in the world. The circuit is renowned for its vertical drop, high-speed bends and its formidable Eau Rouge bend.
Schumacher's teammate for the race would be Andrea de Cesaris. He had to take the German rookie for a few laps in a road car to learn the track. The ride never happened and Schumacher had to find another way to see the circuit. In the trunk of his Mercedes company was a folding bicycle. He quickly unpacked it and embarked on a 4.3 mile bike ride to get a glimpse of the challenge that lay ahead.
As unglamorous as it was to ride a folding bike on a Formula 1 track, things were about to get worse for Schumacher. No one had booked a hotel for the future Formula 1 legend. With all the available rooms booked before the Grand Prix weekend, a very basic hostel was the only place to stay.
Michael Schumacher, speaking to Autosport, as quoted by Formula1.com, said of his room: "There were two small beds and in the middle was the toilet and sink. But I think we would've slept under the truck, you know. It didn't really bother me. For me, it didn't matter too much.
Sleeping next to the toilet isn't the best way to start your Formula 1 career, but you need to make the most of what you have when there are no other options.
None of this would matter on qualifying day. Schumacher started the session half a second slower than his much more experienced teammate. It shook De Cesaris and would prove to be the one time Schumacher would be slower than the experienced Italian during the weekend.
At the end of qualifying, Schumacher occupied a spectacular seventh position on the grid. De Cesaris came only in 11th place. Schumacher's pace had been set and made the entire Formula 1 paddock sit and notice his talent.
Schumacher's run would only last a few hundred feet, as a blown clutch would leave him stuck on the track just past Eau Rouge. Schumacher had more than impressed the other teams despite the mechanical failure, and the Benetton F1 team signed him for the remainder of the year. It would be the same team he would win back-to-back World Championships with in 1994 and 1995.
The view behind bars
While a 22-year-old Michael Schumacher was busy becoming a legend, Bertrand Gachot sat uncomfortably behind bars in a British prison. The prospect of serving an 18-month sentence seemed intimidating to the Frenchman, but an appeal saw that sentence reduced to two months.
Gachot recalled his experience in prison saying: "I was angry to be in prison. When they rob you of your freedom, you realize that life isn't about money, it isn't about a lot of the things that you think are important to you right now.
"In fact, when you are in prison, freedom is what matters – only freedom and health. I swore to myself when I was in jail that I would be happy every day after that as long as I was free and my loved one and myself healthy I wouldn't complain. And I really followed that.
Gachot had no idea that Michael Schumacher got into his car for the Belgian Grand Prix. He remembers the first time he heard the news from the German: "The first time someone told me about Michael Schumacher, I won't forget, he was one of the keepers in jail.
"They said 'the new guy they hired is so good they don't need you anymore so you can stay here.' The guard came towards me, every time he opened the door he made the noise of a Formula 1 car. I swear. "
Bertrand Gachot would return to Formula 1 after his time in prison, but not with Jordan F1 Team. He will race with Larrousse and Pacific before switching to sports cars.
Michael Schumacher would become the most successful Formula 1 driver of all time, only recently being passed by Lewis Hamilton. His career is said to be known for his work ethic, attention to detail and blazing speed. But none of this could have materialized without the impatience of a London taxi driver in city traffic.
Related: The Sweet Way Mick Schumacher Pays Tribute To His Father Michael Schumacher During 2021 Formula One Season