The fast and the fake: The super-fast grocery war has hit Holland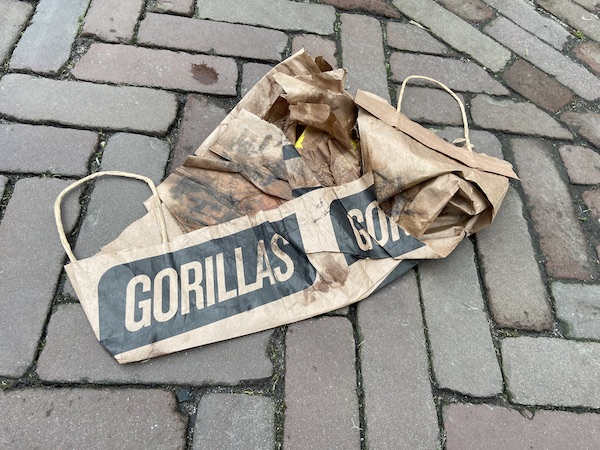 You've probably seen ads for Getir and Gorillas, or maybe you're already one of their customers. These are just two of the "super fast" grocery delivery companies that recently invaded the Netherlands and caused controversy in cities like Amsterdam. For better or for worse, their fight could be happening in your neighborhood… if it's not already there.
Keeping your eyes peeled is always a smart move when walking around Leiden.
The city center is full of narrow streets and blind curves, many of which were originally built centuries ago. Inattentive college students love to ride their bikes on sidewalks and delivery drivers often end up riding on them too.
On a recent dark winter evening, I walked through a narrow lane that was the scene of many screaming matches between cyclists, motorists and/or pedestrians. It was then that he appeared: a delivery man in his twenties on a bicycle. He slammed on the brakes and came to a stop for a split second before causing a collision that would probably have sent both of us to the nearest hospital.
Rude words were exchanged at loud volumes which ricocheted off the church across the street. Seconds later, he continued his journey with a puzzled smile on his face, once again at a speed that many might consider ridiculously dangerous. I couldn't help but notice the GoPro camera attached to his bike helmet. Who was he and how soon would the footage of me yelling at him end up on TikTok? As he disappeared into the night, I read the yellow word on the back of his purple jacket:
Getir
Who was this man dressed in purple?
I didn't know who or what a Getir was at the time, but a Google search quickly brought me up to speed. This is a "super fast" grocery delivery service originating from Turkey. Customers can order groceries through an app and have them delivered in just eight minutes.
Over the past few years they have been in the midst of an aggressive expansion across Europe. Getir is currently available in at least six cities here in the Netherlands as well as others scattered across France, Spain, Portugal, Italy and Germany. In some areas, they deliver meals from restaurants a la Deliveroo or Thuisbezorgd. The name means "to bring" in Turkish.
Their legions of purple-clad delivery men are currently competing for customers with a few similar start-ups, perhaps most notably Gorillas. Like Getir, Germany-based Gorillas also specializes in quick grocery deliveries, but they're available in more European cities and recently opened in New York. In many regions, their teams try to complete their deliveries in as little as eight minutes.
Both companies' incredibly fast delivery times have made them popular with their customers, and many 20-somethings are more than willing to join their payroll.
Unlike Thuisbezorgd, which was heavily criticized for years for treating its employees like construction workers until it finally offered them contracts in December, Getir offers its staff both full-time and part-time positions. partial with benefits including discounts on their products and paid time off. An advert for vacancies in Leiden says delivery staff are paid €12 an hour, not including any tips from customers.
Nevertheless, the competition for staff here in the Netherlands is always fierce. Advertisements offering €200 sign-up bonuses for new recruits have been commonplace online in recent weeks. In comparison, a similar position at Gorillas offers a salary starting at €13.30, telephone allowances and a retention bonus for employees willing to stay for at least three months.
Life at high speed
Despite the benefits, the high pressure to make deliveries as soon as possible took a toll on many employees. Reports of long working hours and unsafe working conditions have leaked from Getir in recent months, but that pales in comparison to the bad press the gorillas have received throughout 2021.
Employees of Gorillas, who lure customers with the slogan "faster than you", have reported the physical and mental stress of trying to rush everything from fresh produce to several six-packs of beer to their customers on busy streets and at speeds that might make the average Tour de France participant wince. This is not an easy task, especially if a client lives on the sixth floor of a building with a broken elevator.
A Deputy article about May 2021's Gorillas described grievances ranging from the low quality of the company's bikes, which can't handle cobblestone streets, to the dangers of trying to make on-time deliveries during peak hours. Last winter in Berlin, runners went on strike after being told they still had to make their deliveries despite the snow.
It probably goes without saying that living next door to one of these companies' distribution centers or "dark stores" isn't great, especially if you're a light sleeper. One of the key elements of their lightning-fast delivery times is their proximity to their customers. They often set up shop in or near residential neighborhoods in empty storefronts, storage units, or just about anywhere with enough floor space and short distances between them and their clientele.
These centers also operate almost around the clock, seven days a week. A Getir distribution center that opened in a storage space in the middle of Leiden quickly began to irritate nearby residents after their staff blocked a sidewalk across street with delivery bikes and scooters inches from two houses. Others were parked at the corner of a narrow street.
The vehicles had mostly been removed at the time of this writing after several residents contacted city officials with their complaints, which also included stories of sleepless nights caused by staff running almost constantly between 7:30 a.m. and midnight .
In Amsterdam, the city council has now banned the opening of new dark stores. Leiden is considering similar moves and other cities, including The Hague, are also questioning the appearance of so many blacked-out windows on their main streets.
"This break was introduced before the rise of dark shops got out of control," Amsterdam's planning chief Marieke van Doorninck said.
Many of their layouts are similar to what you would find in a night store. In the case of Getir, when a customer uses an app to place an order, it is quickly sent to the "preparers" of these centers who grab the baskets and rush through the aisles. After grabbing the items from the list, they quickly pack everything up and hand it to a delivery person waiting at a counter near the entrance.
A great success in Holland
If you don't work for them or live near one of their fulfillment centers, chances are you'll like the services provided by Getir, Gorillas, or competitors like Flink and Zapp.
Their apps work well, they can bring groceries to your door in minutes, and the average delivery price is just a few dollars. The selection is larger than you might think, and they often offer deep discounts on a wide range of products from spices and laundry detergent to organic hazelnut milk and tubs of Ben and Jerry's ice cream.
It's no surprise that they proved popular in the Netherlands. According to recent research, their customer base has tripled to about 700,000 customers in the second half of 2021 alone. At least 13% of the country lives in the delivery areas of one or more of these companies.
Quarantine
Rotterdam resident Craig Stewart told DutchNews.nl that he started using Gorillas to have groceries delivered to his home after growing frustrated with the limited delivery slots available from suppliers. 'Albert Heijn.
"We prefer them at the moment, mainly because of safety during the pandemic," he said. "The convenience is unbeatable and some of their products are of higher quality than Albert Heijn, which makes it easier to use them on an ongoing basis."
A disabled customer who chose not to be quoted said they were perfect for people with reduced mobility. Dario Boot, a student at the University of Amsterdam, also chimed in to say he often depends on deliveries from Gorillas. He lives in an apartment in an area of ​​Amsterdam Noord without any night shops. There's a Gorillas distribution center across from his building, and they can often get things to him in as little as six minutes.
"I've mostly used them when I forgot something at the supermarket and it's too late to pick it up," he said. "So I mainly order smaller deliveries of the things I've forgotten, plus some extra fruit or snacks to make the delivery costs worth it." I have however used them for larger deliveries a few times during times when I was in quarantine awaiting test results.
Too good to last?
If the potential for a massive accident lawsuit wasn't enough to worry investors, the Telegraph dubbed the industry "a bicycle accident waiting to happen" in an article last spring due to an increasingly crowded market. There's also the question of how much money there really is to be made once these companies have spent billions in venture capital while juggling high overhead and deliveries that, on average, earn them a few euros.
Regardless, Getir alone is currently valued at $7.7 billion and aims to attract at least another billion in investment to pursue its ambitious expansion goals over the coming months.
Only time will tell if this is all just a fad or if these super-fast grocery delivery companies will clog the country's bike lanes for many years to come – if local authorities allow them to install their distribution centers, ie.
Thank you for your donation to DutchNews.nl
The DutchNews.nl team would like to thank all the generous readers who have donated over the past few weeks. Your financial support has helped us extend our coverage of the coronavirus crisis into evenings and weekends and ensure you are kept up to date with the latest developments.
DutchNews.nl has been free for 14 years, but without the financial support of our readers, we would not be able to provide you with fair and accurate information on all things Dutch. Your contributions make this possible.
If you haven't donated yet, but would like to,
you can do it via Ideal, credit card or Paypal.