Lily Williams takes on the Women's Tour de France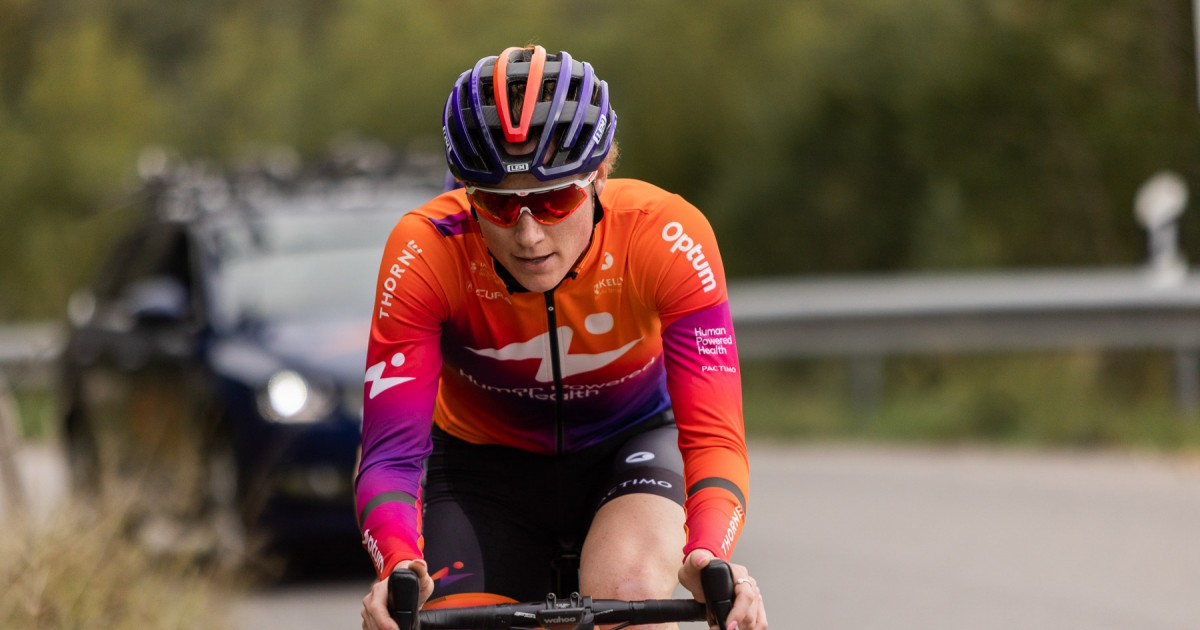 Lily Williams recalls her early days as a "pro" cyclist in 2019, when the term didn't quite apply.
"We had eight women crammed into a van in Belgium, waiting for the rain before a race started," Williams recalled. Now teams have full fleets of vehicles, including air-conditioned motorhomes with showers and ready-to-use cooks and massage therapists.
"It's a real professional operation now," Williams said in May from central Spain, where she was preparing for a multi-day long-distance stage race. "To do our job, like a 10-day stage race where you really go to your physical limits, you need that support. It makes me feel like a professional athlete, not just a woman playing sports.
On July 24, Williams '17 MS and her Human Powered Health teammates will compete in the first eight-day, 640-mile Tour de France Women with Zwift. It starts in Paris, has two mountain stages and ends at the top of La Super Planche des Belles Filles in the Vosges.
"This is the first iteration of the women's race in many years that feels like the men's Tour de France, rather than just a one-day race," Williams said. "The men's race – it's probably one of the most famous sporting events outside of the Super Bowl and the FIFA World Cup – lasts 21 days and is a huge effort, so doing the Women's Tour de France with Zwift true stage racing feels proportional."
Williams, who lives in Colorado, and his team will compete in several stage races in Belgium, Italy, the Netherlands and elsewhere in Europe throughout the summer and fall.
She grew up in Florida and raced cross country at Vanderbilt University. Williams was introduced to competitive cycling while in the Masters of Journalism program at Northwestern, beginning in 2016.
Living in Chicago's Edgewater neighborhood at the time, she commuted by bicycle between the Evanston campus and the Medill School of Journalism, Media, Integrated Marketing Communications building in the Loop. Soon after, she also landed a job with Turin Bicycle Chicago.
After her co-workers helped her choose a bike and get the right gear, she took part in group rides and then started racing for the Northwestern club cycling team.
"When I first started riding I was doing it mostly for utility, commuting, then competing with my friends, and it was very low stress," Williams says. "It was exactly what I wanted from a sport at that point in my life, and then once I realized I was quite naturally talented, it made it a lot more fun."
Williams began competing in track cycling races in 2019. At the Tokyo Olympics, Williams won a bronze medal in the women's team pursuit, a track cycling event. (His mother is Olympic speed skater Sarah Docter Williams.)
Despite Lily Williams' success, she says she felt emotionally and physically unprepared for the 2020 Games. COVID and logistical hurdles limited her ability to run in the 18 months leading up to the Olympics. "It was really challenging," she says, "so hopefully next Olympic cycle I'll have a full year of fitness in the body ahead of time."
This work has already started. Williams can now focus entirely on training, thanks in part to her team's membership of the Women's World Tour, which requires riders to be paid minimum wage. "Until this year, I was also working part-time as the director of communications for the nonprofit Bike Index," Williams says. "It was really nice to be able to just focus on my sport, because we train a lot and the recovery demands are quite extreme."
Although she no longer works in the nonprofit world, Williams realizes the long-term benefits of her Medill degree. "I don't think people quite understand the value of communication training," she says. "It's good to know I'll have those skills when I'm done with professional cycling."