Large field of professional women to line up at Iron Horse Bicycle Classic – The Journal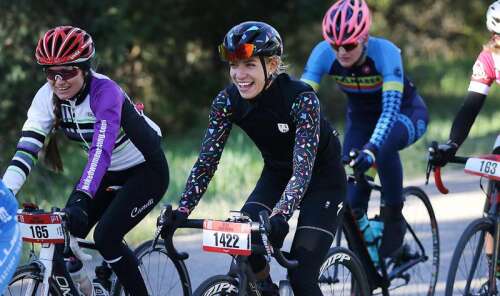 Sarah Sturm, who won the Iron Horse Bicycle Classic 2019 women's professional road race, smiles as she rides through the Animas Valley. Sturm could claim victory again this year if his legs have recovered well from a 190 gravel race a weekend earlier. (Jerry McBride / Durango Herald file)
Olympic hopeful Huck is making headlines away from home; Defending champion Sturm and young Holcomb want to keep title in locals' hands
As the Iron Horse Bicycle Classic reaches the famous climbs over the Coal Bank and Molas passes on Saturday, any number of riders in the professional women's field could take the winning stride.
Local runners like Sarah Sturm, the 2019 champion, or Kira Payer could race to victory on familiar roads. But they'll face stiff competition from out-of-town mountain biking stars Erin Huck and Evelyn Dong.
Last weekend, Sturm finished second in the Co2uT Desert Gravel Race, which covered 190 miles of high desert terrain west of Fruita. She said she sees how she is recovering from the strain, but will likely compete in the road or mountain bike races at Iron Horse.
Sturm, who won the 2019 edition in 2 hours, 49 minutes, 13 seconds, rocked a number of local women who could play a part in the 47-mile road race at Silverton, such as Ava Hachmann, Emily Schaldach, Ellen Campbell and junior freak Ruth Holcomb.
"(Holcomb) is crazy right now," Sturm said. "She's getting ready for a European mountain biking season and she's always a lot of fun to watch. I'm sure she could definitely have the legs to win.
The riders of the 2019 Iron Horse Bicycle Classic Women's Professional Road Race, including Ruth Holcomb of Durango, far right. Holcomb could compete in the road race this year at just 18. (Jerry McBride / Durango Herald file)
Holcomb, 18, has just returned from World Cup mountain bike races in Germany and the Czech Republic with her national team Bear and has just announced that she will ride as a rookie for the Fort cycling team. Lewis College this fall as she begins her college education.
"I'm really, really excited to be racing at home, and it's just good to take a little rest and get ready for the road race," said Holcomb, who placed second in the women's all-round pro competition. queen of the mountains in 2019 for her combined results in the road race – an eighth place – and her victory in the mountain bike race.
Holcomb also believes the road race could be won by any number of women.
"There's everyone from Erin Huck, who's on the long Olympic team, to a local girl group and just a few so many fast people," she said. "I was very impressed and delighted to see this starting list for sure."
Huck is also coming out of a European mountain bike racing spring. Now residing in Estes Park, Huck is considered one of the favorites to be selected by USA Cycling to compete in the mountain bike race at the Tokyo Olympics alongside Kate Courtney of California and Haley Batten of Utah. .
"My good friend Evelyn Dong signed up there as well, and it's kind of just an excuse to meet up and ride a bike and have fun somewhere cool," Huck said.
Evelyn Dong returns to the Iron Horse Bicycle Classic this week as one of the contenders to win the title of Queen of the Mountains. (Durango Herald file)
While the Olympic selection is looming, Huck said the goal this weekend is to have fun and not get too stressed out.
"The promise was it would be fun, and I can't be too stressed out about it," she said. "I mean, the reason for doing them is just to ride a bike, have fun and enjoy the kind of environment that Durango offers because there are so many bike enthusiasts out there and it's impossible to not having a good time.
One factor in running that can help or hinder athletes is altitude. The summits of Coal Bank and Molas reach over 10,500 feet above sea level, challenging even local runners accustomed to riding in the highlands.
"I don't usually have an elevation problem so I'm not very concerned about that," Huck said.
Regardless of who is in the leading group, the pace will pick up the first winning riders who come out of Animas Valley towards the first climb.
"The race always seems to be around Shalona, ​​she will naturally get faster," Sturm said, adding that she likes the fact that the course is basically a big climb except for the flat sections in the valley and near. of Purgatory Resort.
Sturm and Holcomb noted that they would rather spend time with their rivals on the climbs than wait for a big sprint at Silverton.
After 47 miles and over 5,000 feet of high altitude climbing, the stretch on Greene Street is "a lot longer than you might think," Sturm said.
Durango's Ava Hachmann could compete in this week's Iron Horse Bicycle Classic road race after a good season with the FLC cycling team (Jerry McBride / Durango Herald file)
Hachmann and Payer both had a successful spring racing campaign on road racing with the FLC Cycling Team and could both wear that fitness in the Iron Horse Weekend.
Campbell is another local Durango and FLC alumnus who knows the road well. She's back in town for the run, back home from Montana.
"It will be great to have these women who have competed in top level races," said Campbell. "The Iron Horse is great for bringing in riders like this."
No matter who wins, many women will have another chance to win the mountain bike race the next day as part of the Queen of the Mountains Omnium. The race will start at Durango Mesa Park before heading to Horse Gulch on trails like Telegraph, Stacey's and Cuchillo. This year's new course is likely to create a different racing dynamic than the circuit running through downtown Durango and the Fort Lewis College mesa used in previous years.
Campbell mentioned what could be the epitome of the importance of Iron Horse to the community of Durango.
"I'm always excited to be doing Iron Horse. Being away from Durango for a while, my main focus is on having fun and riding with friends."
Ellen Campbell of Durango is back home for the Iron Horse Bicycle Classic weekend and is looking forward to the event in her hometown. (File courtesy of FLC Cycling)