Lakewood Teen Leads Big Boy's Bike Repair to Success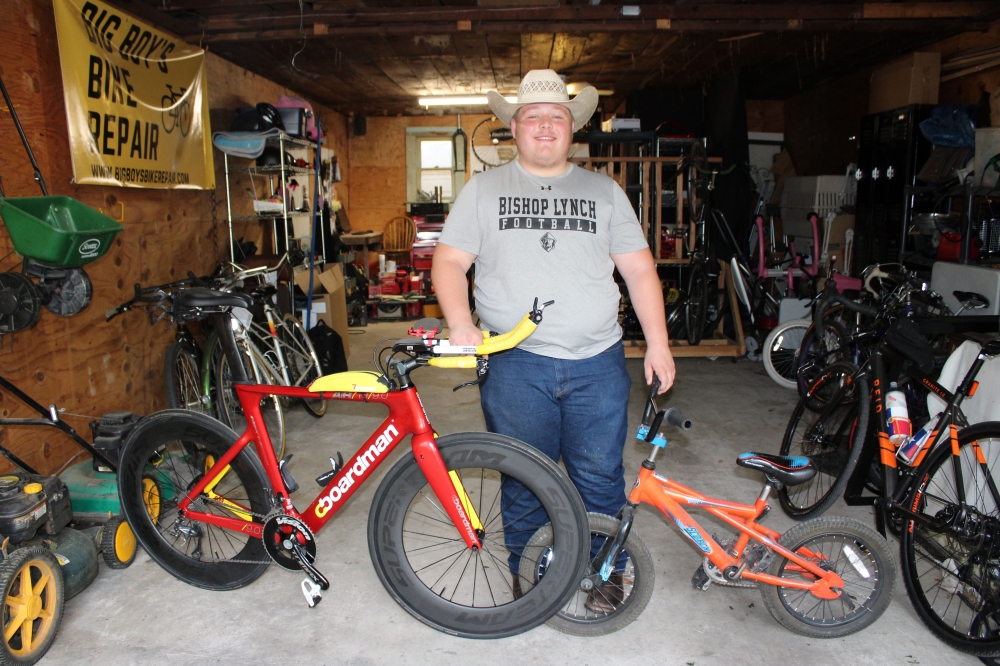 Hayden Harrison, owner of Big Boy's Bike Repair, said his favorite thing about owning this business is meeting new people. (Karen Chaney/Community Impact Journal)
Lakewood resident Hayden Harrison was 15 when his school switched to remote learning in 2020 due to COVID-19 regulations.
This change gave Hayden a lot of free time.
"I did about two hours of school [per day]," he said. "I can't sit still; I have ADHD, [and] I have to do something. So we were cycling.
Hayden said he and his friends cycled all the streets of Lakewood and made many trips around White Rock Lake during this time.
"At the time, I had an old bike that didn't run well, and I probably rode 400 miles on it in two months," Hayden said. "This bike broke down. I knew the basic mechanical stuff on a bike, so I fixed it.
A neighbor spotted Hayden doing the repairs and asked if she could bring her bike in for a fix. He said yes and soon found himself fixing bikes for neighbors on his street.
"I was 15 and about to start paying for gas, so I thought why not earn some money," Hayden said.
With the help of his mother, Megan Harrison, he posted a message on the social media site Nextdoor to advertise his business. which has extended its reach to all of Lakewood and Lake Highlands. Within a year, his clients came from as far away as Frisco and Allen.
Now that school is in person again, Hayden has returned to his duties on the Bishop Lynch High School football team and the bass fishing team. During the school week, he concentrates on his schoolwork and saves bike repairs for the weekend. However, Hayden said he was fielding work calls and emails throughout the week.
Hayden said his customers range from avid cyclists to people who need to fix their kids' bikes.
He said his three most requested services are basic tune-ups for $40, tube repairs for $10 and restorations starting at $100.
Hayden said his parents didn't expect Big Boy's Bike Repair to grow as much as it has over the past two years.
"My father [Taylor Harrison] likes the idea because he thinks it's a great experience that I'm working for myself at such a young age and [being an entrepreneur] will push me to work harder in the future," Hayden said.
Big Boy Bike Repair
702 N. Glasgow Drive, Dallas
972-816-8122
Hours: by appointment only