Kim Potter, ex-Minnesota officer, testifies in tears over murder of Daunte Wright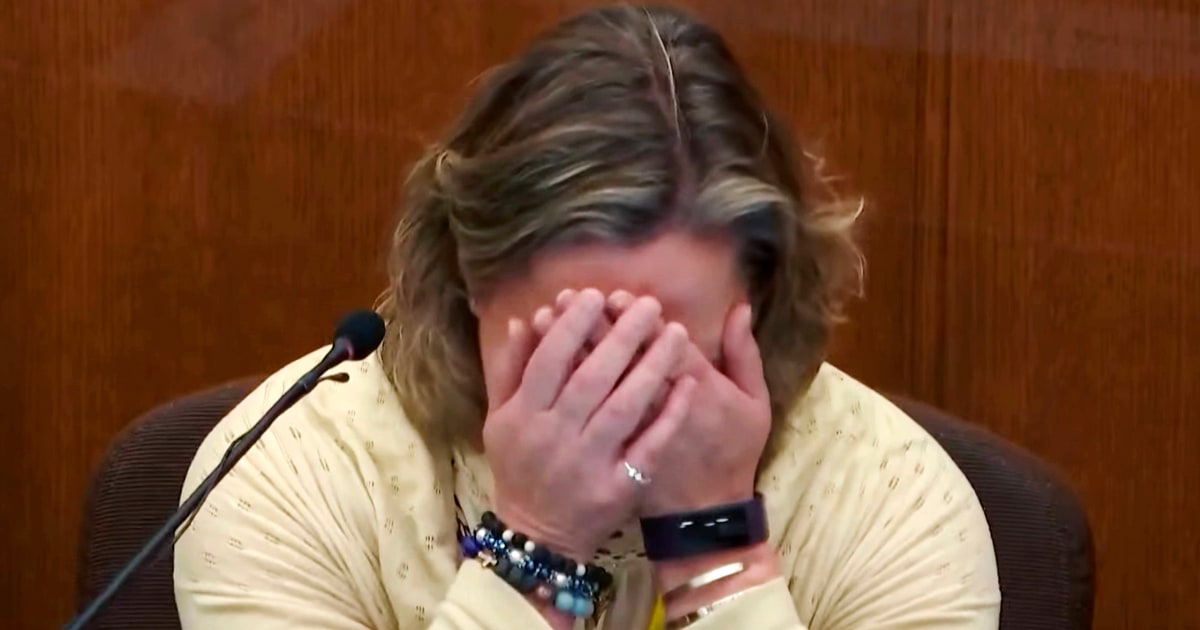 Kim Potter, a former Minnesota officer charged with manslaughter in the deadly shooting of Daunte Wright, a black man, in April during a traffic stop, sobbed in the witness stand on Friday, recalling the "chaotic moments" before pulling the trigger, believing she had fired a stun gun.
The April 11 meeting involving Potter and other officers from the Brooklyn Center Police Department escalated during the traffic stop, she said, after Wright, 20, was asked out of a white Buick.
Potter said she told Wright he had an outstanding warrant. It was for a weapons violation, she said.
Wright, outside his vehicle and about to be arrested, walked away from the police and tried to get back into his car, Potter said, which sparked a fight between Wright and Staff Sgt. 'so. Mychal Johnson.
Potter testified that Wright started looking for the shift.
"I can see Johnson's hand, then I can see his face.… He had a look of fear on his face," Potter's voice broke and she began to cry. "And it's nothing I've seen before. We were trying to stop him from driving. It just got chaotic.… And then, I remember yelling, 'Taser. Taser. Taser. "And nothing happened. And then, he said, I shot him.
Prior to the fatal confrontation, Potter said, police also learned that Wright had been subject to a restraining order against him. Potter said it was his job to determine if a female passenger in the car with Wright was the woman who was the subject of the order.
Potter, dressed in a yellow waistcoat and blouse, was called in by the defense and began her much-anticipated testimony in front of her mother, husband and brother, she said.
Potter said an elementary student visited his school to talk about bicycle safety. She said that moment left a lasting impression.
"It really influenced me when I was young that the police were good people and I wanted to be something like that someday," she said.
Potter, 49, who is white, is charged with first and second degree manslaughter in the fatal April shooting. Her lawyers claim that she mistakenly fired her handgun, mistaking it for a stun gun.
Bodycam video captured when Potter shot once.
The trial began on December 8. Prosecutors filed their case against Potter on Thursday.
Potter continued her testimony and said she had never received any complaints of abuse of power or complaints from the public. She estimated that the training devoted to using her service weapon, compared to a stun gun, was around 80% focused on handgun training.
"We spent a lot more time on the guns than on the Taser," she said. Potter also said, when questioned, that the stun gun she was carrying was shaped like a pistol and also had a dark handle and top.
Potter testified that before the traffic stop she had never used a stun gun on duty.
"I would remove my Taser on rare occasions, but I don't think I've ever deployed it."
Her defense attorney asked about previous testimony saying she had not tested the stun gun for a few days before the shooting.
"I don't remember if I would have or not," Potter said.
The defense called the shooting a horrific mistake, but also claimed that Potter would have had the right to use deadly force because Wright could have dragged another officer, Johnson, with his car.
Potter was asked by a prosecutor about the differences between a stun gun holster and a pistol holster, including how a stun gun holster is plastic, while the pistol holster is leather.
Potter agreed that releasing weapons from different holsters requires different movements, with a pistol holster being released from its holster by tilting the release mechanism forward, while a stun gun is released from its holster by tilting it. rearward.
When questioned by the state, Potter admitted that although she had never used a stun gun on duty, she had drawn it and pointed "several times" to defuse previous incidents in her career.
Potter's direct testimony was put on hold at the request of his lawyers, and Judge Regina Chu ordered a lunch break on Friday when Potter started crying again while being questioned about his actions in the fatal encounter.
Equally touching was Potter's testimony after the break.
Prosecutor Erin Eldridge asked Potter about his videotaped reaction and everything Potter didn't do after he shot Wright.
Eldridge pointed out that Potter's reaction was to yell several curses and declare that she had grabbed the wrong gun.
Potter also shouted, "I'm going to go to jail" because she "killed a boy," Eldridge said..
Eldridge then listed the police duties Potter neglected to perform. This included not checking Sgt. Johnson, or contact other agents about what happened. Potter also failed to check for injuries following an accident between Wright's Buick and a second vehicle..
Potter agreed with the reworking of Eldridge events..
"You didn't run into the streets trying to save Daunte Wright's life, did you?" Eldridge asked.
"You were focused on what you had done because you had just killed someone," Eldridge said.
"I'm sorry," Potter said crying. "I'm so sorry. I'm so sorry."
Eldridge said Potter knew lethal force was unreasonable and unwarranted.
"I didn't mean to hurt anyone," Potter said..
Potter left the witness stand after testifying for about two hours. Chu told jurors the witness testimony was over and the jury would reconvene on Monday.
the potter Former boss Timothy Gannon, a defense witness, who said he was Brooklyn Center police chief from September 2015 to April, said he viewed Potter's body camera video of the shooting on the day that it happened. Gannon also said he later saw video of a patrol vehicle, which captured the incident from a different perspective.
"When I saw both camera angles and had all of the data in front of me, I didn't see any violations," Gannon said. He added that the footage showed no violation of "policy, procedural law," which encompasses use of force laws.
As a result of the shooting, Gannon said, political pressure intensified and he was forced to "resign instead of being fired" because he refused to immediately fire Potter.
Potter's defense attorneys also called several witnesses, many of whom were his former colleagues, who testified to his professionalism and reputation as a peaceful officer.
Also on Thursday, defense witness Stephen Ijames, a former deputy police chief in Springfield, Missouri, said officers who arrested Wright were legally required to arrest him after discovering a warrant for an outstanding weapons violation .
He also said officers were to assume that Wright "could most likely have a gun" because he had one in the past, and that it would have been a "dereliction of duty" for them not to have tried. to stop it.
Use of force expert Seth Stoughton, a professor at the University of South Carolina Law School, testified Wednesday for the prosecution that if it appeared Wright was going to leave, shoot a gun or Deploying a stun gun would have made matters worse as he could have been incapacitated and his vehicle could have become a weapon.
Earlier this week, testimony focused on the police department's use of force policies and procedures that Potter was required to follow.
Wright was arrested in the Minneapolis suburb of Brooklyn Center for expiring licensed plate labels and an air freshener hanging from his rearview mirror.
Potter, a 26-year-old police veteran, was trying to stop Wright after he pulled away and got back into his car as officers tried to arrest him on a warrant for a weapons charge.
Potter resigned two days after the fatal shooting. She posted $ 100,000 bail in April and was released from the Hennepin County Jail.
Wright's death came as Derek Chauvin was on trial in neighboring Minneapolis on the death of George Floyd, which sparked several nights of angry protests in the Brooklyn Center.
Brooklyn Center Police Department Commander Garett Flesland testified on Tuesday about the department's use of force policies and requirements for candidates, saying officers must take an oath. The policy says that the fundamental duty of an agent is to serve the community, and Flesland said, "I believe this is the heart of what we do. We serve and protect.
He said agents must have the ability to make effective decisions under pressure, and that Potter was aware of the policies even as they changed over the years.
On Monday, prosecutors briefed jurors on the differences between Potter's handgun and his stun gun.
Sam McGinnis, a senior special agent with the state Bureau of Criminal Apprehension, said Potter's duty belt had holsters that require an officer to take deliberate action to release guns. The pistol holster has a snap button, while the stun gun holster has a lever. The handgun, which is black, is also twice as heavy as the yellow stun gun, McGinnis said.
Stun guns have different triggers, handles and safety mechanisms, McGinnis said. He said the weapon also has a laser and LED lights that display before it is fired, which he demonstrated to the jury, unlike the handgun.
McGinnis also said Potter did not perform a function test on his stun gun at the start of his shift. Although it is the policy of the Brooklyn Center Police Department that officers are supposed to take the test, McGinnis admitted during cross-examination that he did not verify the extent to which officers in the department were complying with it.
After Wright was shot, his car took off and collided seconds later with an oncoming car. The injuries from the crash were insignificant in terms of Wright's cause of death, Hennepin County deputy medical examiner Dr Lorren Jackson said on Monday.
Jackson also said Potter's bullet caused injuries to Wright's heart and lungs and that these caused his death. He said that such injuries can only be survived "from a few seconds to a few minutes". The case is heard by a mostly white jury.
State sentencing guidelines provide for just over seven years in prison for conviction for first-degree manslaughter and four years for second-degree manslaughter, although prosecutors have said that they were planning to require longer sentences.