Jack Knox: A fundraiser, yes, but Tour de Rock is also a human story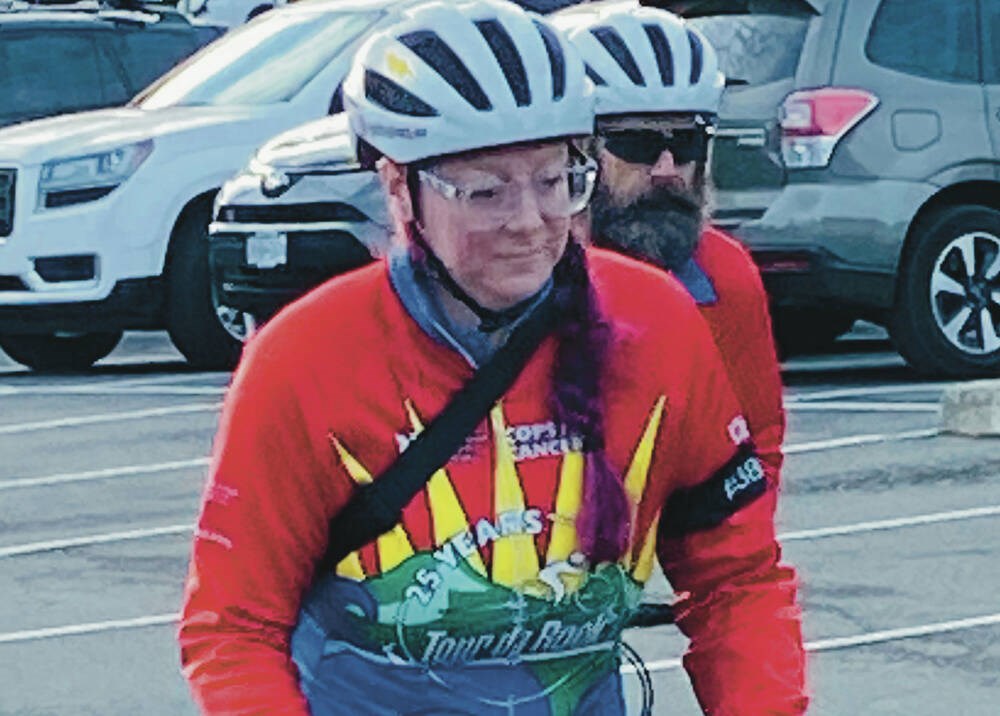 The Tour de Rock journey begins this weekend with cyclists traveling the full length of Vancouver Island
It's not even 7 a.m. on Saturday, yet the well-choreographed ballet has already begun.
Except this dance hasn't been staged since 2019, and it's not easy to remember all the moves. Which sticker is applied to which vehicle and where do the bicycle pumps go? What about chargers for portable radios?
Dozens of people crowd the parking lot in front of Admiral's Walk Thrifty Foods, preparing the convoy for its journey to the northern tip of Vancouver Island. This is where around 20 cyclists will begin their zigzagging journey of two weeks and 1,200 kilometers towards the capital today.
Getting to this point has been a challenge. This may be Rock's 25th Cops for Cancer Tour, but it's the first full event since COVID. The past two years have seen only scaled-down versions, with riders from former teams huddled in their faded lycra to huff and puff around one-day stages of the road.
It would have been easy to let the annual event die. Every fundraiser has its lifespan and the pandemic pause could have provided this one with a natural expiration date. Long-time sponsors and key volunteers walked away. The Canadian Cancer Society, its finances battered by COVID, had to close offices on Vancouver Island and cut staff across the country, leaving riders and the volunteer Tour steering committee without the usual level of support logistics.
Yet the cause – childhood cancer – remains. The same goes for the personal connection between the people who ride and support the Tour and those they help. Because while the Tour de Rock can be a fundraiser – since 1998 it has raised $26 million for pediatric cancer research and Camp Goodtimes, the Fraser Valley summer camp that has proven so precious to sick children and their families – it is also about this connection.
Nanaimo's Simon Douthwaite knows that. A veteran of the 2019 team, he coordinated this year's effort, a task he likens to restarting a seized engine. And as the father of a daughter who was diagnosed with leukemia just before her third birthday, he can attest to how uplifting it is to have the support of the team and an island that has embraced the cause. like his.
"What I will never forget is the first time the Tour came to school at Chelsea." As the sirens from the team's escort vehicles increased, so did the buzz in the gymnasium. "You feel overwhelmed with support." His daughter is now 11 years old and is attached to the team as a rider of honor. The same goes for the children of several other Island families who have been battling childhood cancer.
Ultimately, it's a human story, a story of fear, courage, loss and hope. This was illustrated in August when one of the bikers, Saanich Police Constable Lindsay Nicholson, discovered she had breast cancer.
Initially, we thought he was terminal. "I was initially told it was stage four and it was in my liver," she says. A later diagnosis was more optimistic.
She continued to train with the team, as she had done since the spring. Uphill nights on Tuesdays, speed nights on Thursdays, long rides on Sundays – even a 130 kilometer run on a hot day. Stopping would have felt like she was making a statement she didn't want to make.
Having started chemotherapy on September 8, she's heading to the island with the team, but isn't sure how much cycling she'll be doing. "The chemo sucks the cardio out of you," she says. She must be careful not to let herself down. "You have to keep yourself healthy." Either way, she will have to step away from the Tour de Rock, temporarily, in time for her next weekly chemo session in Victoria on Thursday.
She explained it all as she stood in the parking lot of Admiral's Walk with her youngest child, aged just one and a half, in her arms. The eldest, who has just started kindergarten, was wrapped around her leg.
Ten minutes later, the nine-year Saanich police veteran was astride his bike, setting off with the rest of his team on their largely ceremonial first leg of the pre-road trip north. They were to spend Saturday night sleeping on the floor of the Port Alice Leisure Center. Tonight it will be Port McNeill. Monday will be the 140-kilometer slog to another gym floor in Sayward, punctuated by a potluck dinner hosted by the locals of little Woss.
Among those watching the cyclists go was Michelle Purvis-Fuentes, who lost her two-year-old daughter Madrona to cancer in 2013, and whose sons Rafael Jr., 14, and Zenai, 6, were been honorary runners.
Purvis-Fuentes wanted to highlight how these people find the passion and support of those involved in the Tour de Rock. It's good for mental health, for the healing process.
"It takes a village to lift everyone up," she says. "It fills my heart and heals my head."
• For more information and to donate, visit tourderock.ca
>>> To comment on this article, write a letter to the editor: [email protected]