"It was an incredible trip": the story of Nic Dlamini and his first Tour de France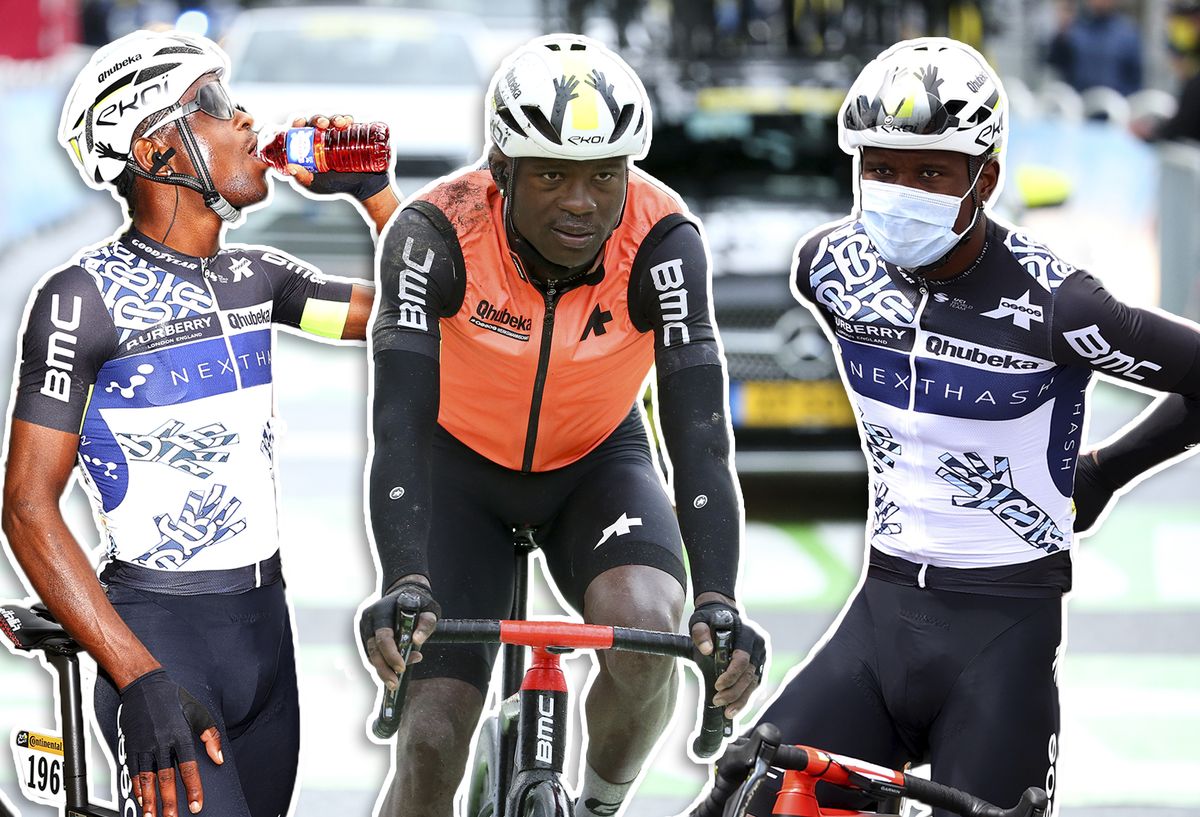 The video of Nic Dlamini crossing the finish line of the ninth stage one hour and 24 minutes after stage winner Ben O'Connor, 40 minutes outside the allotted time and as the publicity caravan began to descend the mountain , gave the South African the history he deserved this Tour de France.
His trip from the township to the Tour is incredible – and we'll talk about Dlamini in a moment – but it was great to see the 25-year-old recognized only as one of the other 177 riders in the race.
With the majority of the peloton so pale, masculine and stale, the press has a habit of perfecting themselves when a black racer, or a racer of Native American descent, takes the start of the world's greatest bicycle race. Of course, it's great and important to highlight examples of diversity in a sport that is sorely lacking at the highest level, but it often seems that runners who are not white can be reduced to just talking about the issues. that concern them. Kévin Reza was the only black rider on the Tour last year and has become a focal point for talking about racism, which is okay for him to talk about his own experiences, but the lack of sparkle provided for solidarity from the rest of the peloton during the last stage. missed the mark.
This year, Dlamini was the only black rider in the peloton, before finishing out of the time limit on the grueling stage of Tignes. Is he tired of being asked about racism in mixed zones almost every time he crosses it?
"I don't really mind," he said. Weekly Cycling before the start of the eighth stage. "[Racism is] something that's there and people can see those things.
"Obviously we would like to do more, to make sure there is no racism. But from a personal point of view, I think I was fortunate not to have experienced any of this. I mean, we don't. I don't tolerate racism in our team and I can imagine it in the races too, but there is definitely more to be done. " Dlamini adds that he personally did not experience any racism in the peloton.
From the township of Capricorn Park to Cape Town where Dlamini grew up, he said AFP it was a place where "you'd be more respected for owning a gun or shooting someone. It's a place where doing the wrong things gets you up there."
One in 15 people in Capricorn Park had a bicycle, and Dlamini and his friends would take turns, ride for a minute and then come back for another to jump on. At that time, Dlamini was still mostly a runner rather than a cyclist, but a friend of his who rode a bike would come back from rides and tell him everything he managed to see going further than you can. only.
"I was really frustrated [that he couldn't travel as far] and I thought I would give the bike a try and see what I could discover, "he explained.
"I liked the bike because I could explore more than I could when I was running. When I started at 14, I could only run 5 or 10 km, and with the bike I could do 100 km, I could see all of Cape Town. I never would have seen it without the bike. It just gives you a lot of mobility and the ability to meet new people. "
In a well-documented incident, Dlamini had his arm broken in a disgusting assault by two park rangers while out for a ride in December 2019. The rangers have been widely condemned, including by Chris Froome and Ashleigh Moolman -Pasio, with Dlamini requiring surgery.
"The arm is fine now, it has recovered just in time, and I am really grateful," said Dlamini. "Even last year, with the season being short due to the pandemic, it really worked in my favor and it extended my recovery period and now I'm here.
"I don't know to be honest," when asked about his reaction to the incident. "It was mixed feelings, maybe a little shocked and maybe not shocked, because I grew up in a township, so I've seen worse." This is his reality, which many of his colleagues in the Tour peloton do not share.
Towards the end of the first week, Dlamini couldn't believe how fast the stages were passing, and the race had yet to do much damage to him physically.
On his way to the Alps this weekend, he was ready to take it day to day as the race got "serious" and envisioned the rest of the race where he hoped to try to get on the road in a breakaway, and had he been to Paris, it would have coincided with Mandela Day, which is always special for the Qhubeka-NextHash team.
Sadly, the first black South African rider to start the Tour de France won't be the first to finish it, at least this year, after Dlamini crashed on a downhill and finished well out of time. in Tignes, after having started the first day of the only smiling runners at the start of Cluses.
"The nature of the stage and the weather didn't really help it. When you have a bad day, you have a bad day. I was also really unlucky to have a fall and lose the contact ", explained Dlamini after the ninth stage, clearly emptied of being out of the race. "After this accident I was alone and it was really difficult to ride at a good pace and to reach the guys [ahead] on my own. I would have loved to finish the race, it's sad to finish like this.
"For me the most important thing was not to stop and ride to the finish. Regardless of being out of time. It's a special race and it has always been one of my goals, the Tour de France. I think I just got off my bike and in a car was not an option. I'm glad I finished even though I finished within an hour and a half of the winning time. C it was a bad, tough day.
"I would really like to thank everyone for the great support so far from the start of the Tour. This is also one of the reasons why I wanted to finish the race today. It is a race that I wanted to honor, and honor my dream. It was my first Tour de France and I knew it would be hard, I'm disappointed but at this point there isn't much I can do. "
One of the beautiful things about the Tour is that the story of the eventual winner is subsidized in equal measure by the multitude of other tales of heroism, passion and humanity that revolve in the orbit of the fight for the yellow.
For Dlamini, he says his participation has already brought a lot of hope to the young people back home at Capricorn Park, in addition to donating bikes working with the Qhubeka charity as well as taking young runners to train on his return. in the south. Africa.
"It has brought a lot of hope to many young people at home and I really hope it will continue to bring a lot of hope to the youngest people in the townships to dream even bigger," he said.
"I've been fortunate enough to be featured in many bike sheds, and they're all special. For the kids it's a life-changing experience. They've never touched a bike or owned a bike. , so for actually getting a bike and riding is really special. When you see their smiles. It's not like they get the bikes for free, they work for the bikes.
"I try to do it as often as possible," he said as he shared his training outings. "Normally when I start training I train with most of the kids and sometimes it's up to them to make themselves available to join me on my training outings. I really like training with him, and especially so that they adapt to the longer miles. I think that's very crucial if they want to be pro. "
As Dlamini leaves the Tour peloton, it is likely that the next time he is on the roads of the country he will be accompanied by his own peloton.
Her first son, born earlier this year, is also expecting her at home.
"I haven't spent a lot of time with my son, but I imagine some of my hobbies have changed," says Dlamini of what he does when he's not on his bike. "So now maybe that would take her out for a walk in a park or something. It's something I look forward to at the end of the season, and spending a lot of time with my good wife. safe, and sleep. "
Dlamini has left his mark on the Tour de France, and that means more than finishing out of time.