Is it so hard to be respectful to cyclists?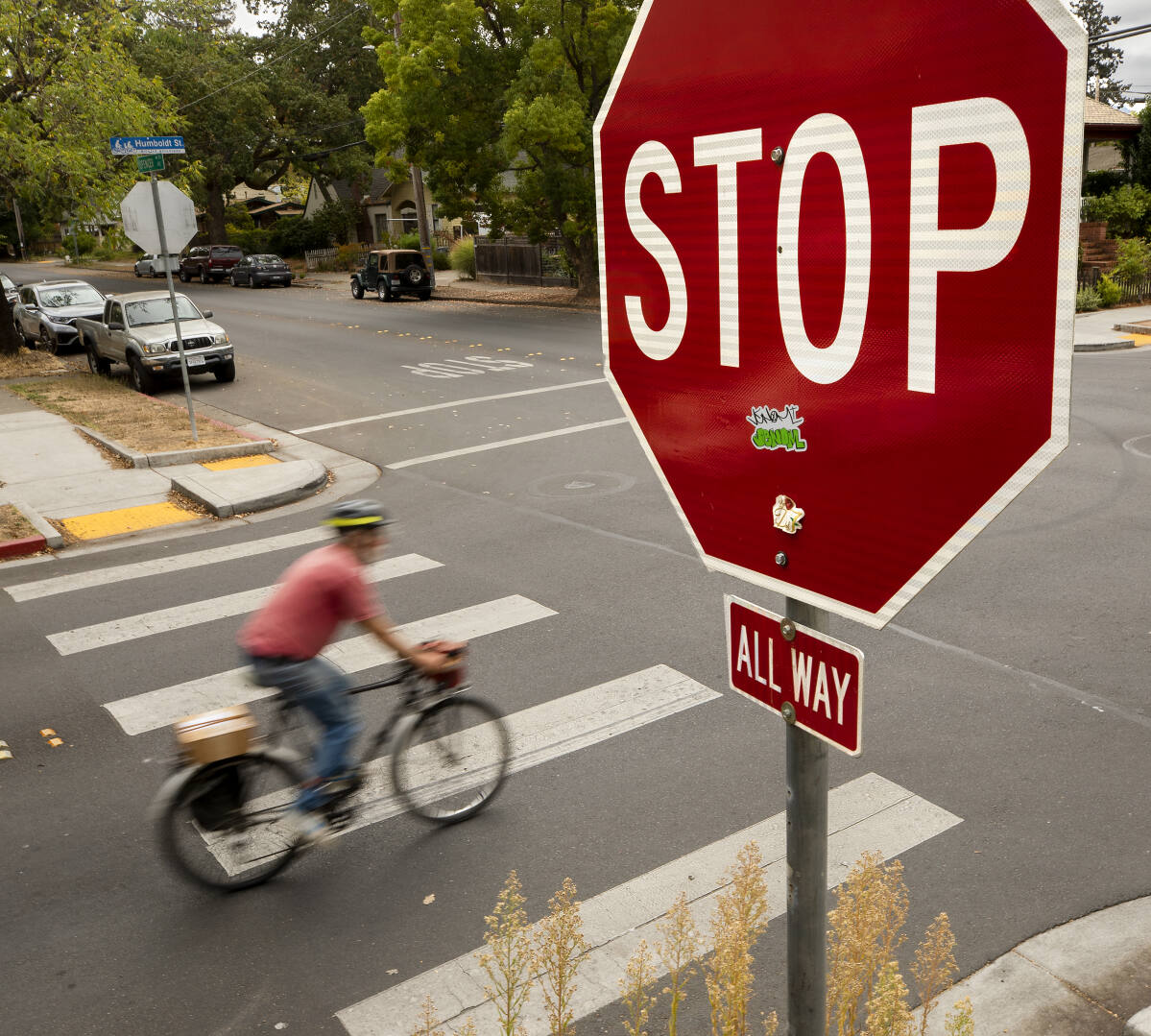 So a funny thing happened while I was riding my bike on Friday morning.
At my usual pre-dawn, it's-night-but-I'm-lit-like-a-Christmas-tree-tower, I was thinking of this column.
And as I drove west on Montecito Avenue in Santa Rosa, thinking of Governor Gavin Newsom's veto of a so-called "Idaho Stop" law for cyclists, the driver of a Honda passed me ridiculously close. of a stop sign.
The driver didn't approach me over my left shoulder, thank you, but passed me so close to where the stop sign stopped us both that the driver didn't get a space to return to the westbound lane.
The car came to a stop astride the center line.
In this case, the driver did not put me in real danger. It was dark, but the road was empty.
It would have been a whole different story, however, if there had been a car coming in the opposite direction. If that had been the case, I guess the Honda driver, wanting to avoid a head-on collision, would have swerved to his right and into… me.
But none of this happened. We both continued on our way, reaching our respective destinations in one piece – as it should be.
And in my experience, this is how bike rides are done most of the time in Sonoma County.
So why the white rage against the "Idaho Stop" bill in California?
Small reminder: the law would have made legal a practice for just about everyone, no matter which side you are on, which is already done by many cyclists – slow down, but ride through, stop signs if the coast is clear.
Focus on this last part – cyclists can only do this if they are safe.
A UC Berkeley Study in 2009 reviewed the Idaho law. He revealed that serious bicycle accidents were reduced by more than 14% after the law came into force.
A study of a similar law in Delaware found a 20% decrease in intersection crashes.
You would think that would be greeted as good news. But there is a zero-sum gaming vibe with roads. That if we design roads to better accommodate bicycles, car drivers will lose out.
First of all, this is not true. Example: A Portland State University Study 2020 examined whether cyclists traveling on low-speed, light-traffic urban roads without dedicated cycle lanes reduced car speeds.
In other words, did meeting bikers in a shared space cause drivers to be late at destination?
No.
So why do some feel aggrieved when they meet cyclists?
According to a Australian study 2019, it's like not seeing cyclists as real people – your mom, your neighbor, your doctor – who just happen to be on a bicycle.
This particular study found that more than half of those polled, identified as motorists, believed that cyclists "are not completely human".
Apparently, self-loathing is also a thing, as 30% of cyclists who took part in the study chose an image of something less than human on a scale that includes humans, cockroaches and mosquitoes.
And while the findings are, at first glance, quite funny, they are also very serious. The authors found that when you think someone is not fully human, it is easier to justify hatred or aggressive behavior.
Wearing a helmet and clothing suitable for cycling, a cyclist becomes something different. They are cyclists, not people who ride a bicycle.
Academics call this "otherness".
Add to those feelings the stress inherent in any type of road trip, and moods can soar, said Brianna Thomsen, a psychology teacher at Santa Rosa Junior College.
"For people in cars, other cars are much more dangerous for them, but we are more dangerous for cyclists," she said. "We are afraid. We are afraid to hit someone, we are afraid to be the cause of someone who gets hurt … and often when we are afraid we go wild.
"Changing the way you see the situation is healthier for everyone involved," said Thomsen.
Thomsen said the feelings of cyclists as "others" start early. Teens who have learned to drive learn that people on bicycles are a threat, not another road user.
"It's 'You have to face this danger,' as opposed to 'You have to share space with people who commute differently than you,'" she said.
One way to solve this problem is to have more people ride their bikes.
First, it's fun. Second, it makes you a better driver because all of a sudden you see non-car users. In a sense, you see yourself everywhere.
Bikers say the same thing.
When my kids were little and started walking, scootering, and biking the block, it forever changed the way I came out of the driveway.
It's more than just awareness. It's something akin to empathy for transportation.
When you experiment with other ways of getting around our roads, you realize that it's not just about cars. Cars are just the most important and ubiquitous players.
And the vast, vast majority of people who cycle also drive cars. Cyclists don't hate cars. We don't hate drivers. We are drivers.
I think we would all do well if more people gave cycling a try so that feeling of understanding goes both ways. Plus, it's a blast. Want a time machine for your 7 year old? Ride a bike.
The debate over the so-called Idaho Stop Law in California is not over. It has been moving for years.
At the end of the day, it's less about enacting a new law – this practice is established and performed safely among many cyclists.
It's more about raising the conversation about ways of getting around that don't involve cars. It's also about making life a little easier for those who ride. If it was easier, maybe more people would.
Only good can come from more people on bikes.
You can contact columnist Kerry Benefield at 707-526-8671 or [email protected] On Twitter @benefield.