"Humanity is waging war on nature," says UN chief, as report criticizes G20 countries for $ 233 billion in support for fossil fuels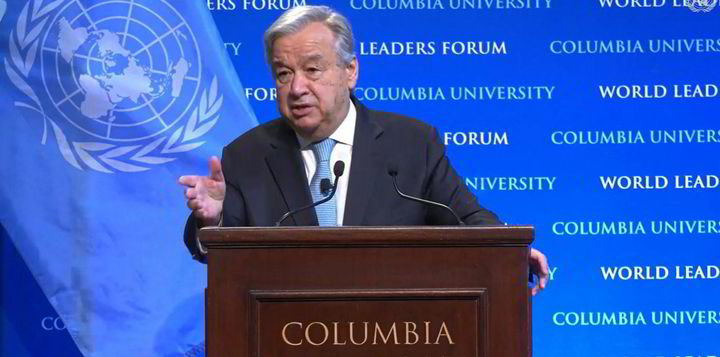 "Humanity is waging war on nature. It's suicidal, "UN Secretary-General António Guterres said on Wednesday, in an angry speech that implicitly criticized world leaders and the fossil fuel industry for insufficient action on climate change.
He pointed to the growing number of "doomsday fires and floods, cyclones and hurricanes" as examples of climate-related human-caused destruction.
"Nature always retaliates – and already does so with increasing force and fury. Biodiversity is collapsing. One million species are threatened with extinction. Ecosystems are disappearing before our eyes… Human activities are at the root of our descent into chaos, "he said.
"It's an epic political test. But at the end of the day, it's a moral test. The trillions of dollars needed to recover from Covid are money we borrow from future generations. Every penny. We cannot use these resources to lock in policies that burden them with a mountain of debt on a shattered planet. "
He added: "It's time to flip the 'green switch'. We have a chance not only to reset the global economy, but to transform it.
"Making peace with nature is the defining task of the 21st century. It must be the top priority for everyone, everywhere. "
The article continues under the ad
His speech at Columbia University in New York came the same day that the UN and partner agencies released a report condemning G20 governments for supporting the fossil fuel sector with $ 233 billion in post economic stimulus funding. -Covid – against 146 billion dollars for renewable energies and other low carbon solutions.
"Policymakers must reverse this trend to achieve climate goals," said the Study of production gaps.
The report says the world needs to reduce coal, oil and gas production by 6% per year until 2030 to keep climate change below the 1.5 ° C target stipulated in the Paris Agreement. Yet production is increasing by 2% per year, backed by loans that future generations will have to repay.
Contrary to Guterres' speech, this report was not afraid to point the finger at individual governments, citing the worst offenders like the US, UK, Germany, India, Turkey, Canada, Russia, Indonesia and South Korea.
"The drop in oil prices brought on by the pandemic this year has once again demonstrated the vulnerability of many regions and communities dependent on fossil fuels," said Ivetta Gerasimchuk of the International Institute for Sustainable Development, who was one the main authors of the report. "Sadly, in 2020 we have seen many governments double their consumption of fossil fuels. Instead of governments letting these fossil fuel projects die, they are resuscitating them from death – it's kind of zombie energy.
Another report published on Wednesday, by the World Meteorological Organization, said 2020 would be the third warmest year on record – despite the temporary reduction in the growth of greenhouse gas emissions due to the pandemic.
Yet despite the disaster, Guterres and the Production Gap study said the situation could still be reversed.
The UN boss highlighted the net zero emission targets set by China, the EU, Canada, Japan and others as cause for hope, but warned that these commitments must be translated into concrete actions .
"We need all governments to translate these commitments into policies, plans and goals with specific time frames. This will bring the certainty and confidence to businesses and the financial sector to invest for net zero. "
He added: "The central objective of the United Nations for 2021 is to build a true global coalition for carbon neutrality. I firmly believe that 2021 can be another leap year, the year of a quantum leap towards carbon neutrality.
"Every country, city, financial institution and business should adopt plans to go net zero emissions by 2050 – and I encourage major emitters to lead the way by taking decisive action now to get on the right track. track and achieve this vision, which means reducing global emissions by 45% by 2030 from 2010 levels. "
He called on governments to put a price on carbon, stop investing in fossil fuels, phase out fossil fuel subsidies, stop building coal-fired power plants and shift from taxing income to pollution taxation.
The Production Gap report said that policymakers "can support a gradual, just and equitable reduction in fossil fuel production through six policy areas: sustainable stimulus and stimulus packages, increased support for just and equitable transitions, reduced support for fossil fuels, restrictions on production, improved transparency and global cooperation ".