How Houston Evolved to Embrace Multimodal Transportation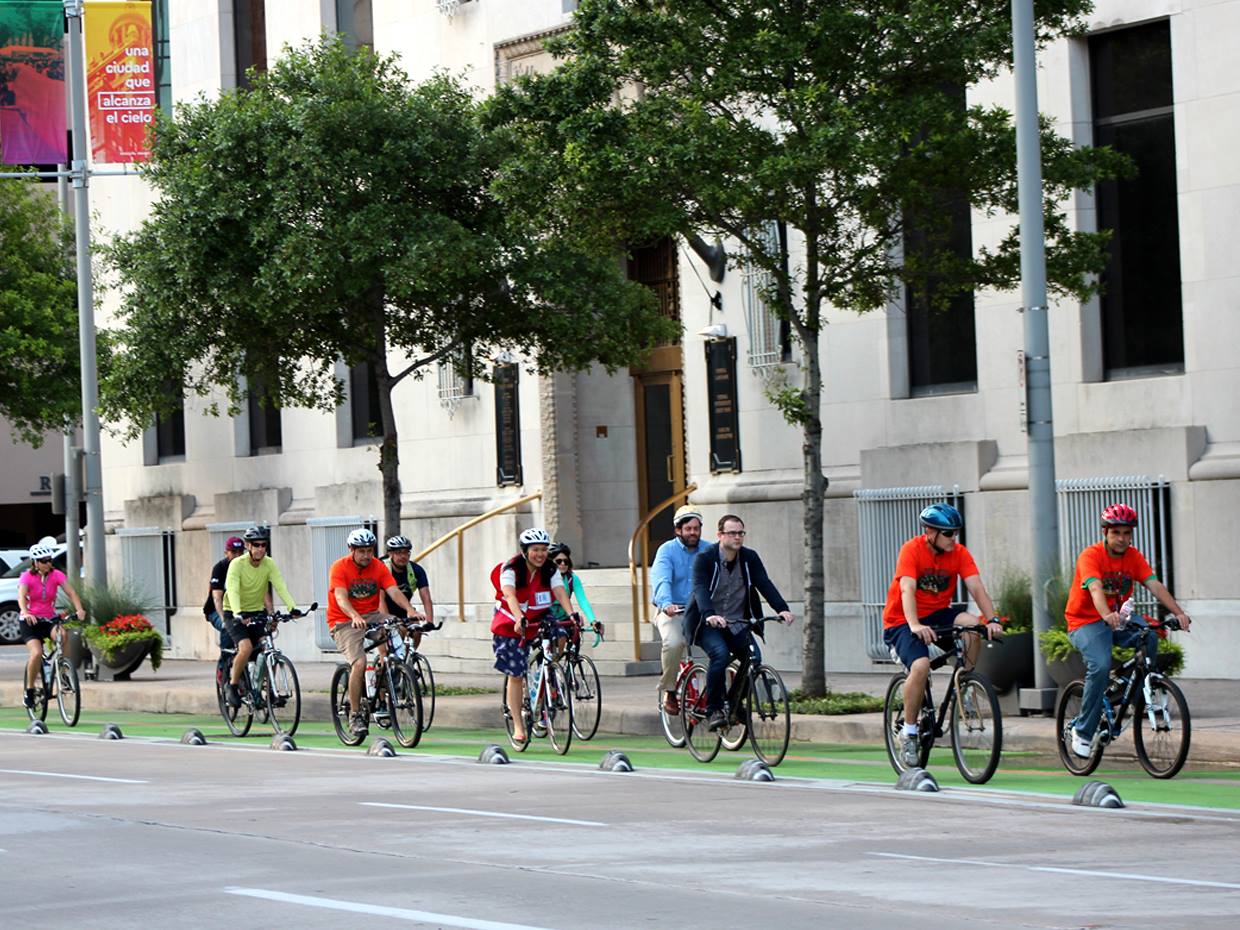 Houston often lists some of the most extensive and car-centric metros in the country. But, the city has evolved over the years to include more light rail and other multimodal transportation options as it seeks to become more climate-friendly. As of 2021, Houston has over 800 miles of trails and bike lanes with a goal of building an additional 500 miles by 2025. And the city is on track to meet that goal.
In 2021, Houston reached 87% of its resilient houston goal of building at least 500 miles of very comfortable and safe bike paths or bike lanes for all ages, according to Rice University's Kinder Institute for Urban Research. The Resilience and Recovery Tracking shows that the city needs to build at least 16 more miles per year to reach the milestone.
In recent years, the City of Houston, Harris County, nonprofits, the cycling community and others have come together to improve Houston's cycling infrastructure and build safer roads for all travelers. as the city continues to expand.
Houston BCycle, the city's bike share program, celebrates its 10th anniversary this month. The program, which is run by nonprofit Houston Bike Share, started in 2012 with just three downtown stations and 18 bikes. Today, there are over 150 stations across Houston and over 1,100 bikes. The bike share program has grown tremendously every year since its inception, growing more than 700% in the past five years, according to the nonprofit.
"The success of the Houston BCycle program is a cause for celebration and a great source of pride for the city, and would not be possible without Houston Bike Share," Mayor Sylvester Turner said in a recent press release. "The City of Houston is committed to making Houston more walkable and connected to biking and public transit, and the availability of these bike stations throughout the city, including in Complete communities, [which] reinforces this commitment and supports our goal of providing fair and accessible multimodal transportation options.
In 2017, the city adopted the Houston Bike Map with the aim of creating approximately 1,800 miles of very comfortable cycle paths with a vision of being a gold level cycling city by 2027. Seven projects have been completed under the plan, in addition to eight that are in the design or construction phase.
Earlier this year, the city announced a $25 million plan to transform Telephone Road between Lawndale Avenue and South Loop 610, an underserved area, with improved sidewalks, protected bike lanes, safer crosswalks and converted traffic lanes. According Chron.com, the city won a $20.1 million federal grant under the Rebuilding American Infrastructure with Sustainability and Equity program. The aim is to combine the project with two other projects already underway along other sections of Telephone Road, which "will help create a five-mile multi-modal section of the artery between the Hobby area and the East End of Houston when it's all over."
Efforts to create a more cycle-friendly city are not going unnoticed. Houston recently ranked 29th out of 50 most bike-friendly cities, according to an analysis by Estimate at any time. Compared to other cities in Texas, Houston only came in Austin.
Despite Houston's significant progress, troubling challenges remain. The annual total of bicycle deaths has increased every year since 2017 in Harris County, except for a slight drop in 2018, according to a analysis of TxDOT data on road accidents by the Houston Chronicle. So far in 2022, 11 people riding bikes have died, compared to a total of 24 last year.
But there are signs that efforts to improve cycling infrastructure and safety are working. A Chron.com analysis shows that the total number of bicycle accidents has been steadily decreasing since 2017, except for a slight increase in 2021.
Investing in multimodal transportation is essential to building a healthier population and economy, and it's clear the city and county are making that investment. The November 8 midterm election includes a $1.2 Billion Bond Election for Harris County voters, which includes $900 million for roads, drainage and multimodal transportation.
Learn more about live in houston.