Hastings Marching Band Invitational returns for the 30th year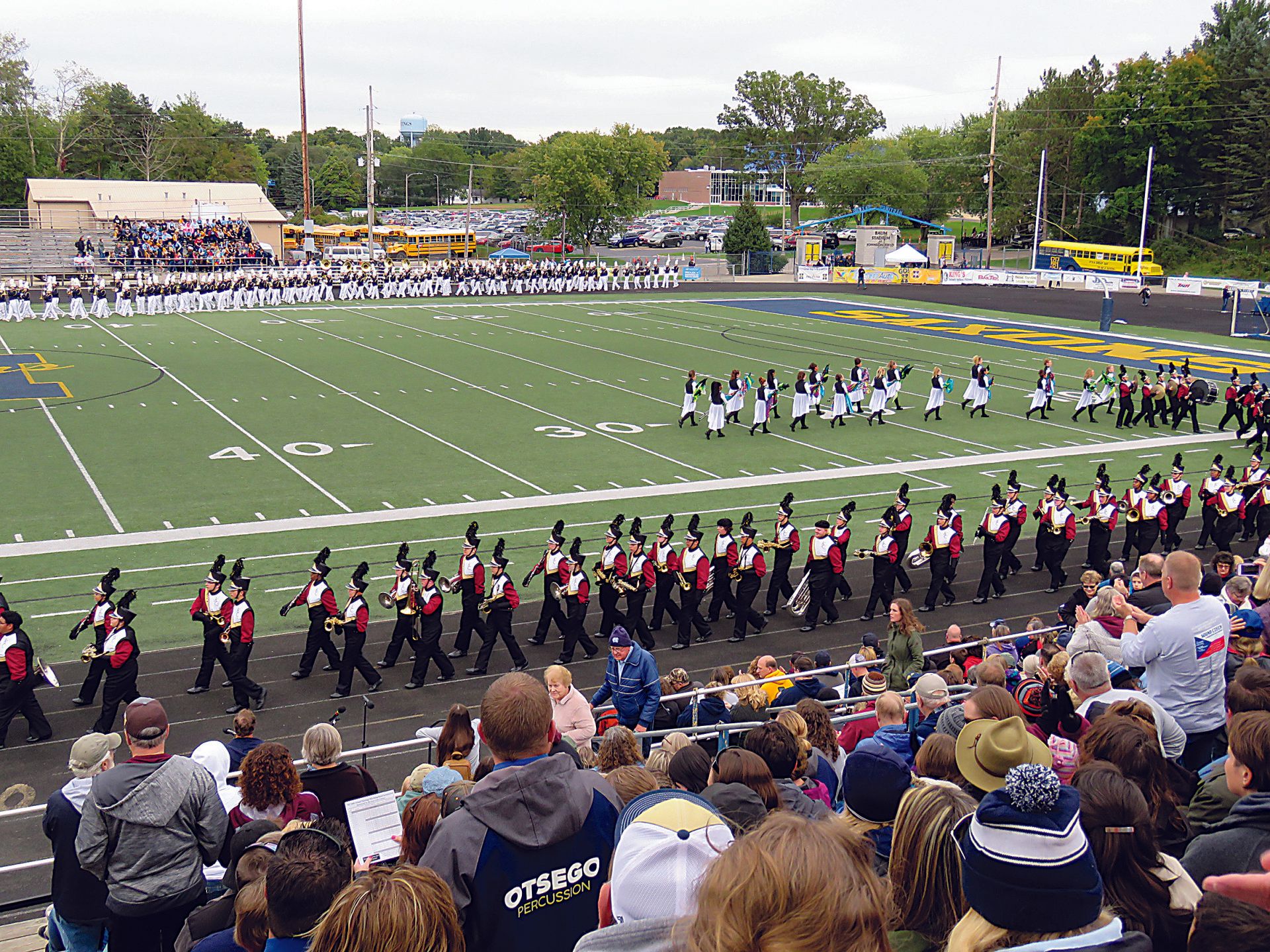 After 30 years, you would think the Hastings Marching Band Invitational could go on its own. But that's far from the case for one of Michigan state's largest high school orchestral competitions.
Spencer White and Jen Ewers, co-directors of the Hastings High School group, each spend around 100 hours a year preparing for the invitation. On Saturday, their hard work will pay off when Hastings hosts its 30th annual Invitational Marching Band.
Twenty-eight schools and 2,200 walkers from Bridgman to Brooklyn to Tawas will travel to Hastings this weekend to perform their halftime shows on Johnson Field at Baum Stadium. Thirty groups had initially registered for the 30th annual event, but two had to withdraw.
"It's okay, though," Ewers said; "28 groups is still a huge number of groups! We are the largest school marching band competition in the state of Michigan and have held this title quite regularly throughout the existence of the event.
"Even last year, in a pandemic year, we were still able to put on a show with 12 groups registered," she said. "As soon as registration opened for our show this year, registrations arrived quickly."
Senior Drum Major Zach Franklin said he looked forward to the invitation's comeback after the pandemic limited the event last year. Only two spectators per group member were allowed to attend in 2020, then after each performance, the group and spectators had to leave.
Despite the pandemic, Franklin said last year's invitation was not much different. The audience was much smaller and the wait times longer, but none interfered with the music.
"It's a good thing about the band and the music, in general, it frees itself from any social or societal activity… and allows a feeling of hope and liberation and even, like, pleasure", did he declare.
This year, groups will compete in six different categories depending on the number of school registrations. Performances will be judged by a panel of conductors, professional instrumentalists and university professors.
Groups will compete against others in their class, vying for the highest score, as well as special subtitle prizes, including top field commanders, percussion section, color guard, music and walking. As the host, Hastings will not be participating in the competition, but will be giving an exhibition performance.
At the end of the evening, the top scorer of the general classification, whatever his classification, will be considered as the great champion.
"I always like to see all the bands come in," said director White. "It's always nice to get in touch with the directors who are visiting and see what all these educators are doing in the state. It's inspiring, it's encouraging, it's fun.
The invitation is open to all. Tickets are $ 6 for adults, $ 5 for students and seniors, and free for children under 5. The audience is requested to remain seated and silent during each performance.
The event will start at 11 a.m. with the national anthem and will continue throughout the day. Hastings will be the last group to perform at 8:30 pm with their show "Villain", which includes "Paint it, Black" by the Rolling Stones, "The Imperial March" from the "Stars Wars" movies, "Bad" by Michael Jackson, "Send in the Clowns "by composer Stephen Sondheim and music by" The Phantom of the Opera ".
Last weekend, Hastings placed first in Class B at the invitation of Otsego, winning legendary awards for visual presentation and percussion. The Saxons were just 1.2 points behind grand champion Mattawan and secured the second-highest score of the event, Ewers said.
The Lakewood High School group took first place in Class C at Otsego, winning legendary awards in percussion, color guard and visual presentation. Delton Kellogg, within 3 points of Lakewood, placed third in the same division. The three schools, along with nearby Caledonia, Wayland, Hopkins and Ionia, will be among the groups performing on Saturday.
The invitation serves as a major fundraiser for the Hastings Group program and provides a chance for local and regional groups to compete.
"It's a great opportunity to see the band perform in front of an attentive audience," White said. "Sometimes during football matches it can be a bit awkward because there is a lot going on at half-time. And while a lot of people watch the shows there, there's a whole different vibe when you see a performance that's specially designed to feature these bands. "
For Franklin, the size and diversity of the schools make the event unique. When not volunteering with concessions or parking, he plans to talk with other band members, watch their performances, and maybe even collect some ideas for new props.
"It's this huge melting pot of so many different groups," Franklin said. "… Not all competitions have such a large number of bands, such a wide variety of music. You can really see so much from this invitation. "
White and Ewers like to use stats to illustrate the size of the show, which will take around 10 hours from playing the national anthem to the final results:
– 28 high school groups
– 58 buses
– 37 equipment trailers
– 2 semi-trailers
– 2,200 student walkers
– 110 adult volunteers
– 40 student volunteers
The return of the invitation, especially after the past 18 months, provides a greater sense of excitement.
"We're happy to see a year of performance for all the bands, and we're happy to be a part of it," Ewers said. "It's also great for our students to have the chance to see what the other 27 bands are and what they're playing this 2021 season."