Has the SMART Tire Company created the ultimate bicycle tire?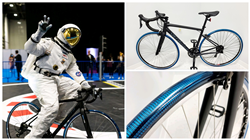 Presented for the first time at the mobility conference Move 2022 (London), then presented at Viva Technology in Paris, the latest [airless METL] tires were seen fitted and in action on a Specialized bike, testing out the test track.

AKRON, Ohio (PRWEB)
August 10, 2022
A year after first showcasing airless tires made from space-age metal alloys and making waves with cycling and tech enthusiasts, SMART Tire has unveiled a new prototype that meets key questions about technology. First appearing at the Move 2022 mobility conference (London) and later showcased at Viva Technology in Paris, the latest tires were seen fitted and in action on a Specialized bike, testing out the test track.
Compared to the Spring 2021 model, this latest iteration includes:

A translucent, colored polyurethane casing to keep out dirt and debris

An optimized design that is 85% cheaper to produce, aiming for a competitive tire price

Integrated rubber treads for optimal grip and all-weather performance

Retreadable, for nearly unlimited mileage on the same tire

Compatibility with standard clincher rims
CEO Earl Cole said, "The METL tire exceeded all of our expectations and we are on track for a 2023 launch. Our biggest challenges from day one were cost and manufacturability. Now it's about testing and retesting to make sure we achieve the dream: the ultimate high performance airless tire.
STC is currently working with a major bike manufacturer on a futuristic concept bike for Q1 2023 and plans an official consumer launch later in the year. The waiting list for METL tires remains open at https://www.smarttirecompany.com/cycling.
In addition to developing NASA-inspired bicycle tires, STC recently launched its advanced lunar tire designed specifically for Project Artemis and NASA's Lunar Terrain Vehicle, which will return astronauts to the moon for the first time since the Earth. Apollo era.
Co-founder Brian Yennie explains:

"Something we're doing that's really unique is carrying the torch of original space applications, while simultaneously adapting the technology for consumer use. Usually, space technology returns to Earth several years later, but the two projects can now benefit from each other in real time.
About SMART Tire Company

The SMART Tire Company develops and manufactures the world's first high performance, lightweight, airless, never flat and durable bicycle tire made from space-age materials, originally designed by NASA. These tires require no air pressure, roll smoothly like a conventional pneumatic tire, look super cool, can last the life of your bike, and are priced on par with high-end products on the market today. . Unlike all previous airless tires, SMART tires are made from shape memory alloys, which are unique "superelastic" metal alloys that can combine extreme durability, low rolling resistance and strength in one. single product. Combined with an easily replaceable rubber tread, the technology dramatically reduces landfill waste, downtime and fuel economy for electric mobility fleets. With the elimination of punctures and under-inflated tires, safety is also improved.
STC is a crowdfunded startup based in Akron, Ohio and Los Angeles, California. All SMART tires are designed and manufactured exclusively in the USA.
Interested investors and cycling enthusiasts can purchase shares of the company directly by visiting https://wefunder.com/the.smart.tire.company (See here for important legal information)
Share the article on social networks or by e-mail: