Guelph's 'Get Lit Get Seen' Duo Install 500 Free Lights for Campus Bike Safety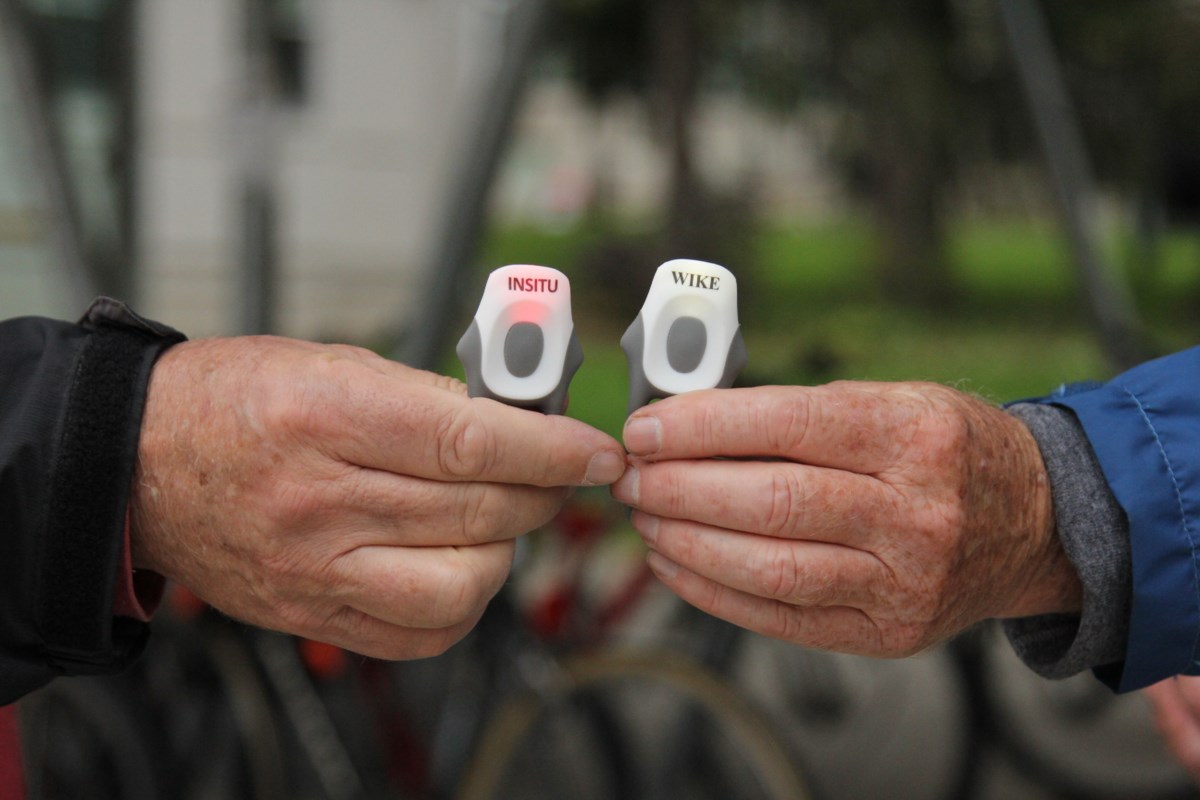 Since their debut in 2016, the duo have installed nearly 4,000 lights on student bicycles free of charge.
When the students returned to their bikes on Thursday, they found them a little safer than when they left them.
On Thursday afternoon, two concerned citizens and avid cyclists, Harry Oussoren and Bob Bell, arrived at the University of Guelph campus to install 500 free LED lights directly on student bikes.
"A lot of students seem to be riding their bikes at night and they don't have any lights on," said Harry Oussoren, president of Insitu Contractors, which distributed lights with Bob Bell, CEO of WIKE Bicycle Company.
"We're a little worried about hitting them."
Each cycle received two LED lights which included a white light for the front of the bike and a red light for the rear. The duo traveled across campus to install lights on 250 bikes.
In addition to the lights that were easy to install and remove, there was a note that read "You've been turned on!" Your bike now has lights. Courtesy of Insitu Contractors and Wike.
"We can do a complete bike in about 30 seconds. So to do a few hundred bikes – there are usually three or four of us – it takes an hour and a half to two hours for 300,400 bikes, "Bell said.
Oussoren said the team makes sure to get permission from campus police before they start distributing lights.
"We asked them to be there just so that if the students have any questions about what we're doing, it's okay," Oussoren said.
Bell and Oussoren started the initiative five years ago when they heard several complaints from people in town about students biking at night without lights.
"Rather than listening to others complain about students walking around town with no lights. We thought okay, we're just going to put lights on all the students' bikes, "Bell said.
Since their debut in 2016, the duo have distributed nearly 4,000 lights.
"We did it every year until COVID, then there weren't any bikes here. "
Bell said it was better to put the lights on the bikes rather than hand them out to students.
"It doesn't make sense to just hand out lights to a kid because then they'll come home and they'll sit them on a refrigerator and they'll forget about it," Bell said.
Engineering student Brona Mayne was pleasantly surprised when she returned to the bike shed to see her newly equipped bike with lights.
"I'm pretty happy," said Brona Mayne.
"I knew I needed it because obviously you should have lights but I never had time to buy it."
Oussoren said students generally enjoy the lights very much.
The duo said the small but powerful lights can last for a few years if they are turned off after use.
Bell added the need for lighting, especially given the growing number of cyclists in recent years.
"I'll bet you there are four times as many people on bikes now as at the start of the pandemic," Bell said.
He said young people are realizing that the solution to climate change is something they can do.
"Riding a bike is something they can do," said Bell.