Great Vic Bike Ride postponed to March, route shortened due to COVID restrictions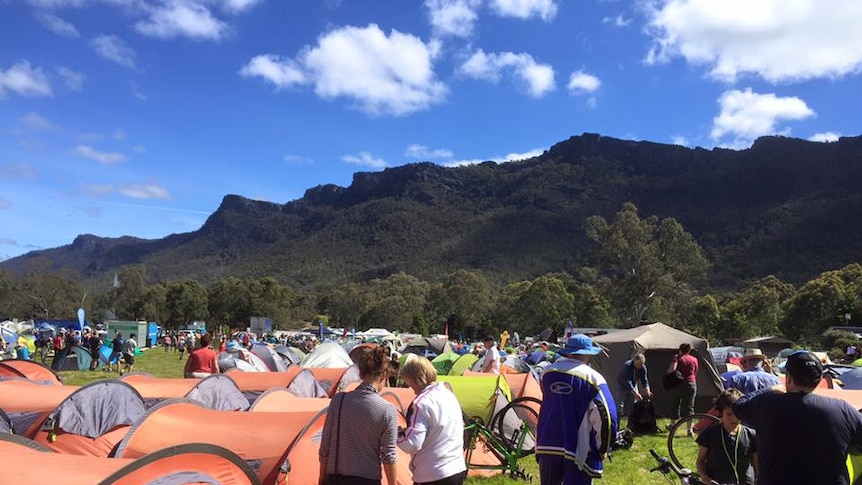 Victorian cycling's biggest event will not be held for the second year in a row.
Key points:
Thousands of cyclists from across Australia typically participate in the Great Vic Bike Ride, in a different region each year
The event will now take place in March 2022 on a shorter route
Bicycle Network organizers announce they plan to hold a full Great Vic Bike Ride later next year
The Great Vic Bike Ride, which was originally scheduled to take place in November, has been postponed to March next year, with Bicycle Network organizers citing current COVID restrictions as the reason.
Instead, it will host a shorter four-day event called 'Little Vic', across the Grampians – excluding the towns of Wimmera that were on the original itinerary.
Bicycle Network's general manager of operations and events, Rebecca Lane, said there were several factors in the decision.
"Our team and office are obviously based in Melbourne and we can't even get them to the warehouse yet until mid-November," she said.
"[Also] the comfort of the community to have this level of visitors to the city.
There will be a full Great Vic Bike Ride later in 2022, the route of which has yet to be announced.
Those who have paid the full registration fee can opt for a full refund, or transfer their payment to registering for the Little Vic, or the next Great Vic Bike Ride.
The Little Vic will travel from Halls Gap to Dunkeld and back, via Pomonal, before ending at Great Western, from March 31 to April 3.
Ms Lane says they have chosen these dates carefully.
"We wanted to make sure that the Little Vic came to the area during a shoulder season, so we avoided school holidays, long weekends, but we also have to, of course, make sure as much as possible that it can do. beautiful, and also a time when our riders, who also include many school groups, can travel "
"A big injection of funds"
Thousands of cyclists from across Australia typically participate in the Great Vic Bike Ride, which takes place each year in a new part of the state.
Wimmera Mallee Tourism chairman and Hindmarsh Shire mayor Ron Ismay said the news was disappointing.
"The bike ride has been eagerly awaited for two years now and it's unfortunate, but we don't want to put our local community at risk."
Rebecca Lane says they will work with local councils to try to integrate these towns as much as possible, and also encourage Little Vic passengers to spend time in the area.
But Mr Ismay said he didn't think the shorter event would be of much benefit to Wimmera.
"We are very far from [the Grampians]; I wouldn't see that people would want to travel the distance they would have to travel to come this far north… I don't think it will be beneficial for our riding, "he said.
"I consider it only a hiccup and I think they would still host the event at Rainbow further, so we didn't lose anything, it's just postponed."