Edinburgh Car Free Day 2022 will take over Waverley Bridge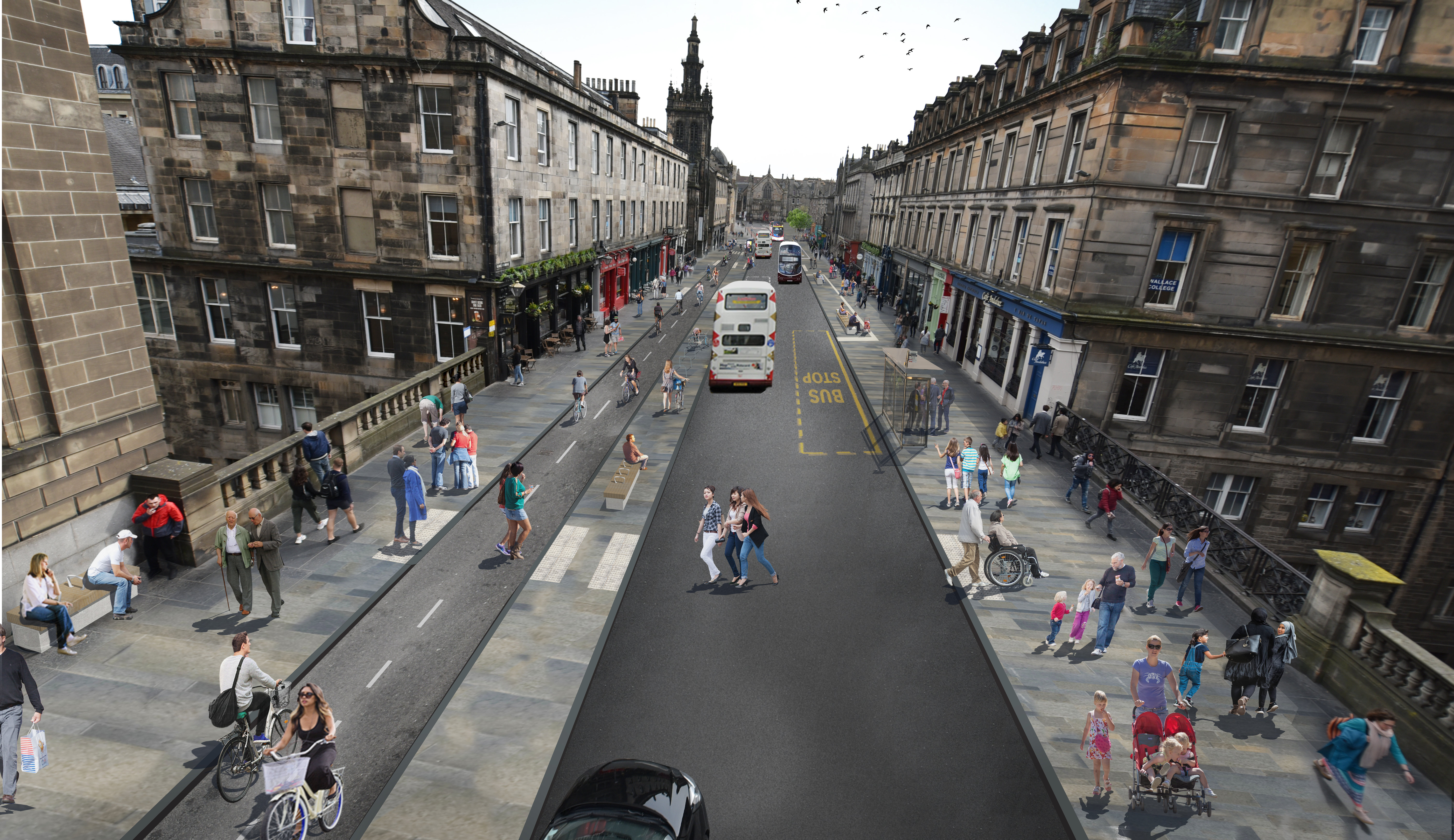 Edinburgh will mark World Car-Free Day next month, belatedly, in a place that is already car-free.
More than 2,000 cities around the world celebrated World Car Free Day, which officially took place on Thursday 22 September, the last day of European Mobility Week (16-22 September).
Edinburgh World Car Free Day will take place on Sunday 2 October (11am-7pm) on Waverley Bridge which has been closed to cars since June 2020.
In a statement, organizers Edinburgh City Council and event management company Crexcell said the original Edinburgh event had been postponed "as a mark of respect following the death of Queen Elizabeth II". October 2 is also, fittingly, the last day of Scotland's Climate Week which runs from September 26.
Organizers promise to turn Waverley Bridge "into an inclusive community center
information, inspiration and activities encouraging people to consider alternatives to car travel in Edinburgh".
Critics were quick to point to the low ambition of Edinburgh's World Car Free Day, at a time when we are faced with the twin crises of exorbitant fossil fuel prices and the escalating climate risk caused by the combustion of these fossil fuels. Edinburgh doctors have also called on the Council to strengthen active travel measures introduced during the pandemic for 'the beneficial and protective health effects of physical activity'.
go big
World Car Free Day events have taken various forms, but typically they involve closing busy central roads to cars and turning the city – or parts of the city – over to community celebration and play in a safe environment. and not motorized. environment. Some local authorities also offer free buses and trains for the day (often at weekends).
Paris, for example, on its Car Free Day last Sunday, virtually closed the entire city to cars. Videos posted online show cyclists racing through the French capital with almost no motorists around.
Brussels opened the city center to rollerblades and walkers only, and Berlin made public transport free and closed 37 streets for playing.
Chicago cyclists have organized critical mass bike bus rides and Vancouver, Canada has several festive car-free days in different parts of the city.
London's Car Free Day events have understandably been more low-key this year given the period of national mourning, but the borough of Hackney still had streets of play last weekend as part of Car Free Day of London and Brompton Bicycle has reinvented a former service station in central London into a world with far fewer cars.
What to expect on Edinburgh's Car Free Day
When it comes to inspiring people to adopt sustainable ways of getting around the city, Edinburgh's car-free event at Waverley Bridge focuses on encouragement and education.
The event will include a lively welcome and information point, additional bicycle parking, a wellness area with demonstrations and health and fitness classes, and a chill-out zone.
Local musicians Sara Forshaw, Folk Drama and The Wispz will provide musical entertainment.
The Bike Station, which refurbishes and sells used bikes, will offer bike safety checks and bikes to try. The team will also have information on safe bike routes throughout the city, as well as bike-friendly and bike-to-work employer programs.
Lothian Buses and Edinburgh Trams staff will offer practical advice and answer questions about their services. Police Scotland will also be there "providing support for cyclists and walkers with advice on cycle safety, personal safety, bike marking and general crime prevention when traveling around the city".
Edinburgh Council has a 2030 target of reducing the distances residents travel by car by 30% and reaching Net Zero. In theory, fewer cars should benefit everyone in the long run and help the city achieve its goals.
Many people are already strolling through the city, but the huge number of visitors at peak times of the year means that traffic congestion can be a problem in the city centre, with cars speeding by and block the main roads (as you can see in this video of cycling along Pont George IV to the New Town during the Festival).
"We need to rethink how we move around the city to achieve these goals. I encourage people to come on October 2 to find out more about the different ways we can get around the capital," said Councilor Scott Arthur, transport and environment manager for Edinburgh City Council. ,
The council is currently working on a number of projects and initiatives which will have an impact on urban transport: the transformation of the town centre, trams to Newhaven, George Street and the first new town, 20 minute quarters and the extension of 20mph speed limits, as well as 'behaviour change initiatives' and transparent ticketing for public transport.
The City of Edinburgh's ten-year mobility plan says its main aims are to move from a "traffic-dominated city centre" to "a city-friendly city centre" with "a priority pedestrian zone and network of streets connected, high-quality and car-free". .
Car-Free Day should offer people the opportunity to discover and anticipate the city of tomorrow where the car will be light. Edinburgh's Waverley Bridge event may not have that kind of excitement, but it will provide an opportunity to learn about many of the transport initiatives currently taking place in the city.
Photo: artist's rendering of the George IV Bridge with cycle path