Delivery courier collides with pedestrian, says he rang and she 'needs to move' – Mothership.SG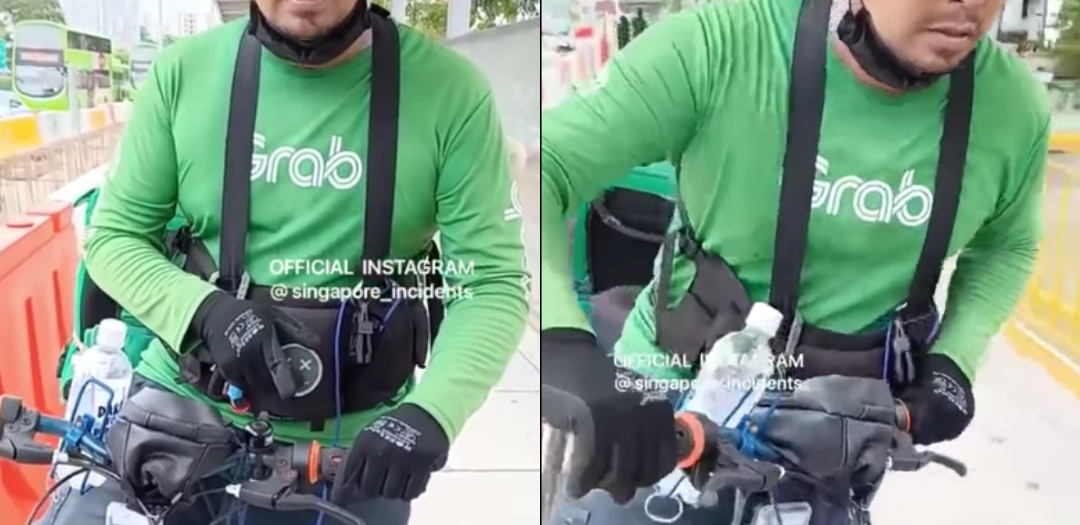 Follow us on Telegram for the latest updates: https://t.me/mothershipsg
A woman in Singapore has alleged that a Grab delivery man failed to apologize after colliding with her in a sheltered walkway en route to a bus stop.
Video of the incident was posted on the Singapore Incidents Facebook page.
The post's caption read: "Delivery guy Rude Grab rammed me from behind and wasn't sorry about it."
It has reached over 500 shares at the time of writing.
What happened
The video, apparently taken after the alleged collision, showed a Grab delivery man on his bike attempting to reason with said woman.
The woman asked why the motorcyclist had collided with her when he was able to avoid another pedestrian on his left.
The biker tried to explain that he had rung his bell to alert her, but the woman replied that he still shouldn't have hit her.
Finally, the cyclist left on his bike.
Here is a transcript of their exchange in the video:
Woman: "You can…why don't you hit him, you hit me with it?"

Rider: "Hello Ma'am. I've already rung the bell, haven't I?"

Woman: "No, you ring the bell but you can't hit me"

Rider: "Did I ring the bell?"

Woman: "No, it's not you, no-"

Rider: "Did I ring the bell?"

Woman: "No, you ring the bell but you can't hit me!"

Rider: "So if I ring the bell, you have to move!"

Woman: "No why you, I mean, why, you should ask him to move!"

Rider: "But she already on that side!"

Woman: "But I'm already here!"
Several netizens made negative comments regarding the alleged behavior of the Grab delivery man, while some argued that pedestrians also had a role to play.
Guidelines for runners
According to the Land Transport Authority rules and guidelines for safe driving on public roadscyclists should "always yield to pedestrians", "watch their speed and slow others down", and "gently alert others before passing".
Mothership contacted Grab for his response.
Top image via Video of Wtqa Ab via Singapore Incidents/FB
Follow and listen to our podcast here