Cool connections | Steve Laurent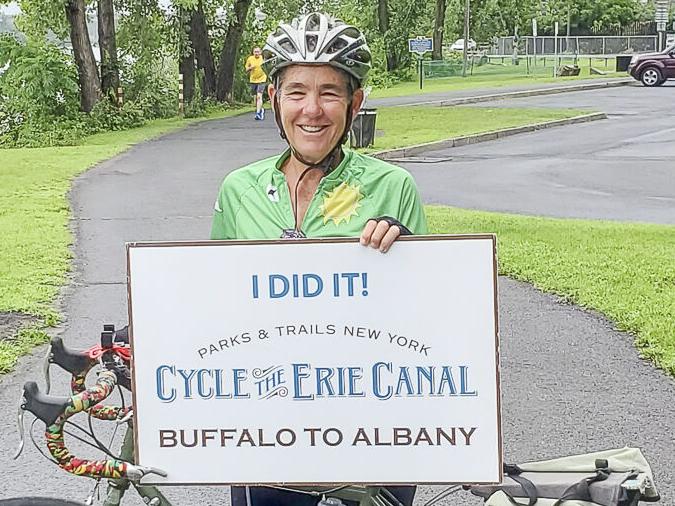 ITHACA, NY – After sharing photos on social media after her eight-day, 363-mile bike trip from Buffalo to Albany ended last week, Beth Orenstein was a little puzzled when people kept calling her " incredible".
Beth and I spoke at 7:30 am Monday, and I noticed that many retirees wouldn't be up at this time. Beth laughed and said, "A few days ago, I would have ridden 20 miles on my bike by now after someone made breakfast for me!"
Beth – a retired firefighter from the city of Ithaca – joined a few hundred other runners to travel the length of the Erie Canal. Elaborating on her discomfort at being called 'amazing,' the 62-year-old said: 'There were cyclists of all skill levels and many older people. Many were 70 and one woman – who was 88. – rode with his daughter. Another rider was a guy from Israel, who rode with his grandson. Another guy – who was 77 – said, "I'm going to ride in all 50 states! I've done so much. weird and cool connections. It was amazing that so many people had traveled so far to be a part of it. I felt far from "extraordinary".
The tour is run annually by New York Parks and Trails, and although last year's event was canceled, 350 runners showed up this year. While some are able to concentrate solely on horseback riding, others are part of the army of volunteers needed to carry out such an endeavor. In Beth's words, "The volunteers run the show. They operate the shower trucks, transport materials, organize entertainment (such as presentations by local historians), unload materials, pack sites, and provide snacks. She described an issue that really tested volunteers, saying, "Runners usually stay at a fort in Rome, NY, and this year they've decided they don't want a lot of people to go. 'crammed together, so they took the riders elsewhere and the volunteers had to move 400 bikes around the fort.
What Beth might have said was that "we" needed to move the bikes, as she was also one of the volunteers besides riding the 50 miles a day. It was the second time that she had done this, as she had completed the double duty for the first time five years ago. When Beth said, "The volunteers who ride also burn a lot more energy," I believed her.
The experience has changed somewhat over this five-year period. According to Beth, "Five years ago there was a lot of gravel along the canal – you know, like the Black Diamond Trail – but this year it was about 85%. [paved]. She added, 'There was a bike mechanic at each rest area,' and she laughed as she said, 'I only had one flat tire the whole trip, and my boyfriend had six. in one day !
Orenstein shared how she found the presentations by historians to be "super fascinating". She said: "When it was built, the Erie Canal changed everything, in terms of commerce. Now, the opening of the canal trail is revitalizing many local economies along the way. It still changes everything.
I asked Beth how the crazy weather we have this summer impacted her experience, and she replied, "I was riding one day and I was soaked. I thought about how lucky I was to be able to do that, and I thought, 'You're soaked! So what?' It was great."
***
I'm grateful to Beth for giving me such a fun story to write, because last weekend was possibly the worst sports watching time of my life …
On Friday I drove two hours to watch my daughter play in a softball tournament, watched a game that night, then saw Saturday's two games fall apart. I returned home, looking forward to at least watching Tim Locastro play for the Yankees that night.
Backup … I showed a friend some of Locastro's YouTube deals, and my friend said – after seeing Tim crash into the wall after making a great take – "He won't have a long career. 'he does it very often. "
Well, as most baseball fans know, Locastro hit the wall in the first inning, had another great catch and tore his ACL. Made for the season. Thin. He will be back.