Bike giant Specialized acquires Carytown Bicycle Co.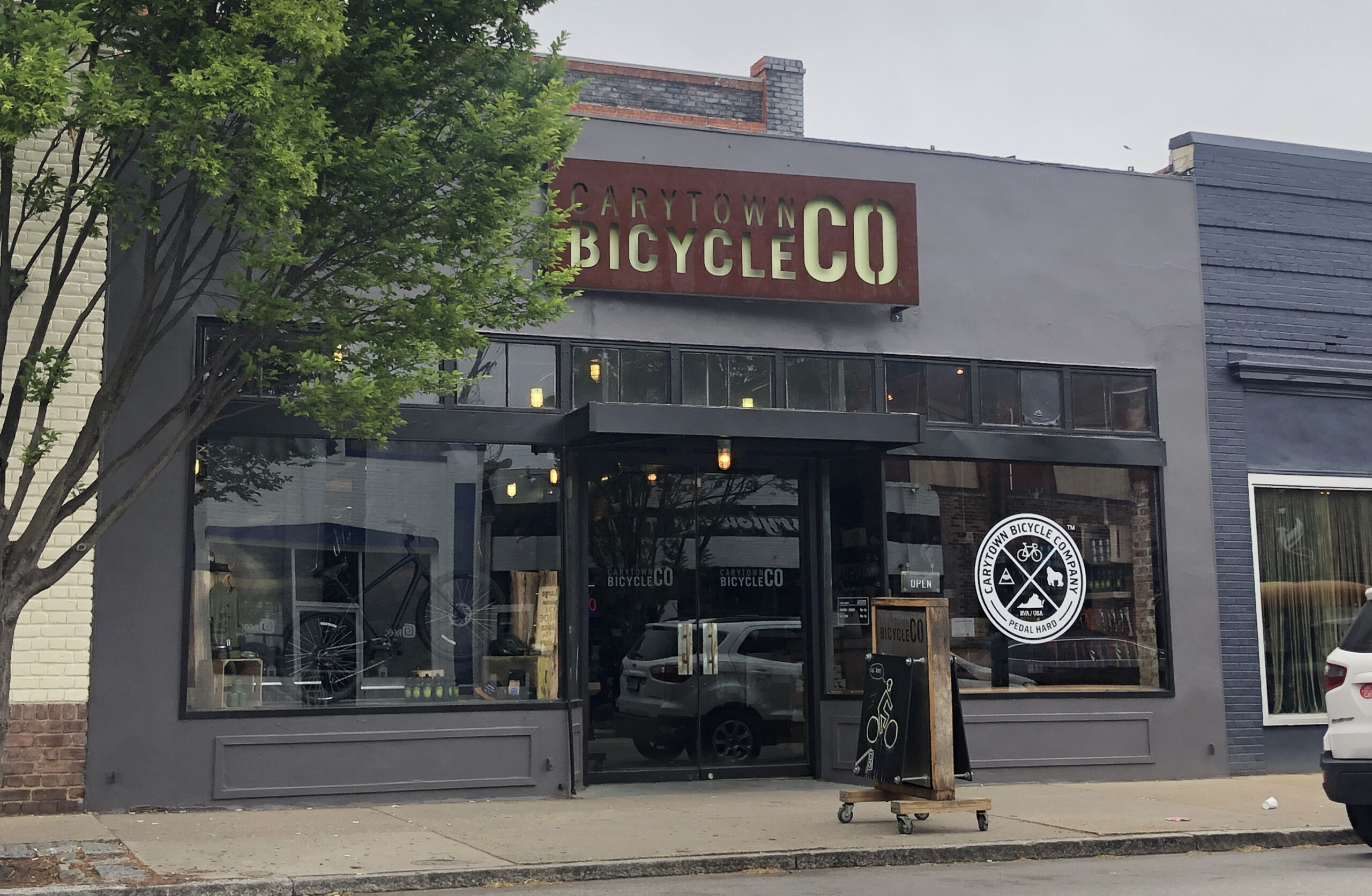 In response to a changing industry, a long-standing local chain of bike shops has changed hands.
Carytown Bicycle Co. was sold to California-based Specialized Bicycle Components for an undisclosed amount.
The deal closed earlier this year, as the Specialized brand now graces the Carytown Bikes website, and a recent zoning compliance certificate filed in the city lists Specialized as the new owner. Although owned by Specialized, the Carytown Bicycle Co. brand remains at its three stores in Short Pump, Midlothian and its namesake neighborhood.
CBC was founded in Carytown in 2007 and expanded to Midlothian in 2015 and Short Pump in 2017. Its Midlothian location was initially in Westchester Commons but moved to Winterfield Crossing in 2019.
Specialized is a giant in the cycling industry, offering bicycles, parts and other accessories since 1974. CBC was a stockist of Specialized products before the sale.
Former CBC co-owners Tim Mullins, John Hessian and Jesse Leadbetter could not be reached for comment. Specialized did not respond to multiple calls and emails seeking comment.
Specialized has acquired independent stores around the world. Over the past year, the brand has reportedly purchased bike stores of similar sizes from CBC in Michigan, Indianapolis and California, as well as internationally in Australia.
Its acquisition spree is part of an ongoing turf battle with two of its biggest competitors: Netherlands-based Pon Holdings, which owns bike brands like Schwinn, Cannondale and Cervélo; and Wisconsin-based Trek Bicycle Corp. Both companies also bought independent bike shops.
Other bike shop owners have noticed the apparent arms race.
Braden Govoni, who co-founded CBC with Mullins, Hessian and Leadbetter before leaving in 2015 to open his own store, Outpost Richmond in Forest Hill, said he believes this latest deal was partly spurred by the purchase by Pon from a chain of stores at Specialized. state of California.
"The bottom line is (Specialized was) basically getting armed with some key markets, and they started, in response, buying chains of two to five stores in the mid-sized markets where they feel most at risk of lose their imprint," Govoni said.
"Specialized sees (the deal with CBC) as, 'It's a chain of three stores that sells our bikes. If we can buy these guys out, then we don't have to worry about Trek buying them out or competing for floor space with these other guys.
He said this race between Specialized, Trek and Pon has accelerated rapidly since it started about a year ago.
"These brands are essentially competing very aggressively with each other for floor space at dealerships. These are just fallouts from that," Govoni said. "I think that's kind of the future of the industry. It makes a lot of sense for these big brands.
The rapid expansion of retail is also made possible by the boom in bike shops since the start of the pandemic, during which the popularity of the sport has exploded.
"Everybody just happens to have a lot of money right now because the last two years have been so good for the bike industry. All of these businesses are relatively flush," Govoni said. "They have a lot of money in the bank and have the ability to do these things."
This boom was also felt by Outpost, although differently. Instead of going out and buying other stores, Govoni said he reinvests the extra money Outpost makes into the store with things like a walk-in fridge for his market and expanding his inventory.
When CBC and Specialized made their deal, it left accounts on the table for brands of bikes that CBC had carried, like Pon's Cervélo.
"It worked very well for us. I immediately contacted a Cervélo (sales) representative. I said, 'You're about to lose three dealers (to CBC). We are just a store, but if you want to sell us gravel bikes and endurance road bikes, I need them," Govoni said.
Although Govoni isn't selling as many bikes to new customers as he did at the height of the pandemic boom – "The surge from a sales standpoint has absolutely peaked at this point," he said – these new customers keep coming back to the store.
"A lot of those people are still around. They're still going on bike rides, still getting their bikes serviced and still buying parts and accessories and doing what cyclists do, which is really cool to see," Govoni said. .