Bike-friendly changes are on the way to some intersections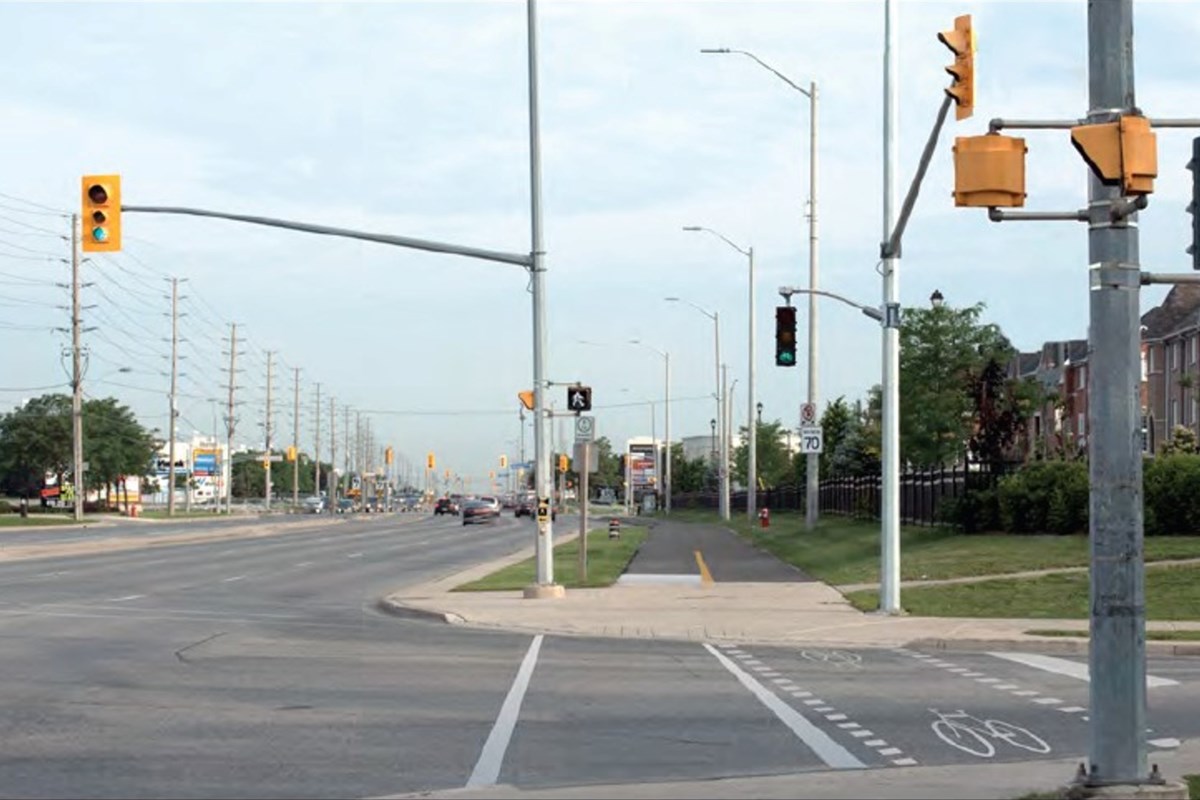 The city plans to install pedestrian crossings and bike signals, allowing cyclists to cross intersections rather than get off and walk
Cyclists will soon be able to cross some intersections where they were traditionally required to dismount and walk. Crosswalks and bike signals will be installed at select locations in Guelph this summer.
"It makes it more comfortable for people to ride their bikes," said Jennifer Juste, the city's transportation planning manager, noting that bikes have traditionally been used on the road, with cyclists required to follow the code of the city. standard route, but split paths are now more common. "The industry has known for some time now that people don't feel safe on the streets and on bike lanes."
A crossride is a separate lane designed for people on bicycles that allows them to stay on horseback while crossing intersections. They connect the cycling infrastructures of the boulevards, such as the multipurpose paths.
The first intersection is to be installed at the intersection of Vanier Parkway and College Avenue in July, with two additional intersections planned for August – Stone Road and Gordon Street as well as Woodlawn Road and Arrow Road.
Other intersections will likely follow, Juste said, noting that level crossings and bike signals will be included in any new infrastructure design work where there are bike lanes in the boulevard that connect on both sides of the boulevard. an intersection.
"It's a type of infrastructure that we're working to design and build more of across the city," she said. "We'll see more crossings with bike signals coming up…but these are the most used ones – we wanted to start with those first."
The concept is supported by the Guelph Coalition for Active Transportation.
"This will encourage more people to cycle because it will remove another barrier to cycling by making it more comfortable and convenient," President Mike Darmon said in a message to GuelphToday. "Crossrides also makes cycling fairer as a legitimate mode of transportation."
Education is key, Darmon added.
"Good signage at intersections would be a good start in educating everyone about this new type of intersection," he said. "My only wish is that we don't have to press the 'Beg Button' to get a bike signal. There should be detectors to automatically see a person on a bike.
"There are many other regular intersections in Guelph that don't detect cyclists, which discourages cycling and encourages traffic violations. We need to move faster on these things.
When the crossings are installed, road signs will appear with graphics explaining how to use them safely, Juste said, adding that educational postcards will also be sent to residents of these areas.
How to use a crossride (instructions provided in the city press release):
Cyclists
Cyclists must press the button at the intersection to receive the green bike signal

When the bike signal is green, carefully cross the intersection inside the crossing paint marks, watching for left and right turning vehicles

Drive at a speed that allows you to stop quickly if a vehicle makes a sharp turn

Obey all traffic signs and signals

Do not pass other cyclists in crosswalks. When you pass pedestrians, ring your bell and pass carefully
Pedestrians
Cross at the marked crosswalk and watch out for vehicles

Avoid using electronic devices, texting, etc. crossing the road

Obey all traffic signs and signals
Drivers
When making a turn, use extra caution and watch for cyclists and pedestrians crossing the intersection

Give way to cyclists and pedestrians entering the intersection, they have the right of way

Obey all traffic signs and signals.