Aztec Adventures to Stage Enduro and Gravel Crusher in Spring – The Journal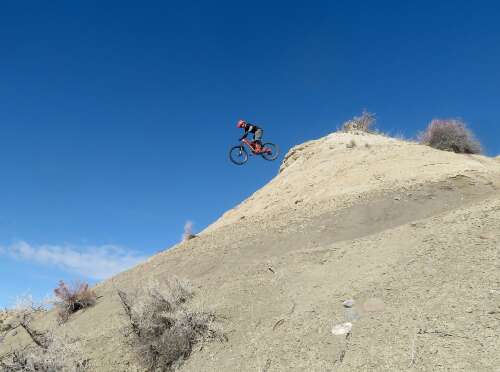 Races will be held in Farmington and Aztec
A cyclist takes in the air on a trail near Farmington. A three-stage enduro-style race is scheduled on the region's ridges in March. Courtesy picture
Riders looking for early season racing will have a few options this spring just across the border in New Mexico. Aztec Adventures plans to hold two new races in March: an enduro on some of the most beautiful ridge lines and a Farmington gravel grinder with pro purses and distances of 10, 35, 55 and 90 miles.
Neil Hannun of Aztec Adventures said the idea behind the races came after he held his first event, the Durango Bike Tour in Farmington in October. The insurance for this event covers their guide service and other events for a year, so Hannun said they decided to hold other races.
The Roost the Ridges Mountain Bike Enduro will take place in the Farmington Glade Recreation Area on March 19 on three ridge trails: Seven Sisters, Lake View and Wild Bills.
Cyclists Will Farmer, left, and Chad Cheeney climb a hill just past the Aztec Arch in New Mexico. This spring, a grit race with pro scholarships will take place in the area. Courtesy picture
"I love racing enduros elsewhere, but I grew up with awesome memories ripping those ridgelines," said Will Farmer, who grew up in Farmington before racing gravity for Fort Lewis and then joining Aztec Adventures. . "I hope this inspires some kids to know they can grow up here and then go anywhere."
Enduro participants will park at Lions Wilderness Park and begin the enduro with its longest transfer – an 8-mile pedal to the first stage. The Lake View and Wild Bills stages will each be around 1 mile long, and the Seven Sisters stage will be around 1.5 miles. Farmer called them "fast and smooth" stages, but said Seven Sisters were the "friendliest". All three stages will end in the same area.
Participants will also have to pedal a little more during the stages than in other enduros.
"It's going to be a more physical enduro race for sure," Farmer said.
The terrain, however, won't require a full enduro bike. Hannun said a hardtail bike would be fine for the event.
The race will be limited to 150 participants.
The Galactic Grinder, meanwhile, will take place on March 5 just north of Aztec and will feature pro awards for the 35 and 55 mile distances.
People will park at the Alien Run trailhead. One of the biggest attractions on the route will be the Aztec Arch, under which cyclists can pedal. The 10-mile event will be free with code NAVAJOYES, giving people the opportunity to step out, take a photo near the arch, and then return to the start. Farmer said a ride with NavajoYES to the Shiprock Wall and back inspired them to add the free 10-mile portion of the event.
The 35-mile and 55-mile orbit, on the other hand, will have large uphill sections and other terrain to challenge competitors.
"There's a lot of good stuff to break people up," Farmer said.
The route will mainly follow dirt roads, but will also feature singletrack and other surfaces.
"These are big, wide roads," Hannun said. "There is plenty of space and no traffic."
From a fitness perspective, however, Farmer called it a "rather unpleasant class."
Cyclists will also have the option of riding the 35 and 55 mile routes for a 90 mile race.
Aztec Adventures encourages people to wear intergalactic costumes for the grinder.
Hannun said he spoke with FLC endurance coach Chad Cheeney and tried to find dates that fit into the varsity team's schedule and didn't happen at the same time as the other races.
"We hope they will adjust to their schedule so they can enjoy it," Hannun said. "And we hope the weather will be good."
"Mars is good for Roost the Ridge; Farmington trails should all work well," Farmer said. "It's a good opportunity. It's the calm before the storm before the start of the season.
Hannun thanked the event sponsors for helping them organize the freshman events.
"It helps a bit," he said. "A lot of it is psychological support, knowing that the community is behind you in Farmington and Durango."
He credited Red Fox Timing, 505 Cycles, Desert Sun Coffee, Diaz Suspension Design, Wells Group, Zuberfizz, Porters Restaurant and Smokehouse, Aztec and Durango Urgent Care, Bedrock Bags, 1st Southwest Bank, Tailwind, Honey Stinger, Animas Cycles and Mobile Bike. Shop, Sandstone Cycles, San Juan College, Yellowman Builders, King Cage and Bisti Bicycles for their support.
Hannun also said they are working with the Ska Zia Town Series to possibly add two races in New Mexico as well.
More racing information at https://raceroster.com/events/2022/49467/roost-the-ridges-enduro and https://raceroster.com/events/2022/55842/galactic-gravel-grinder
"It doesn't matter what you ride," Farmer said. "Just rolling."