250 cyclists, 25 km: this morning ride aimed to make cycling safe for women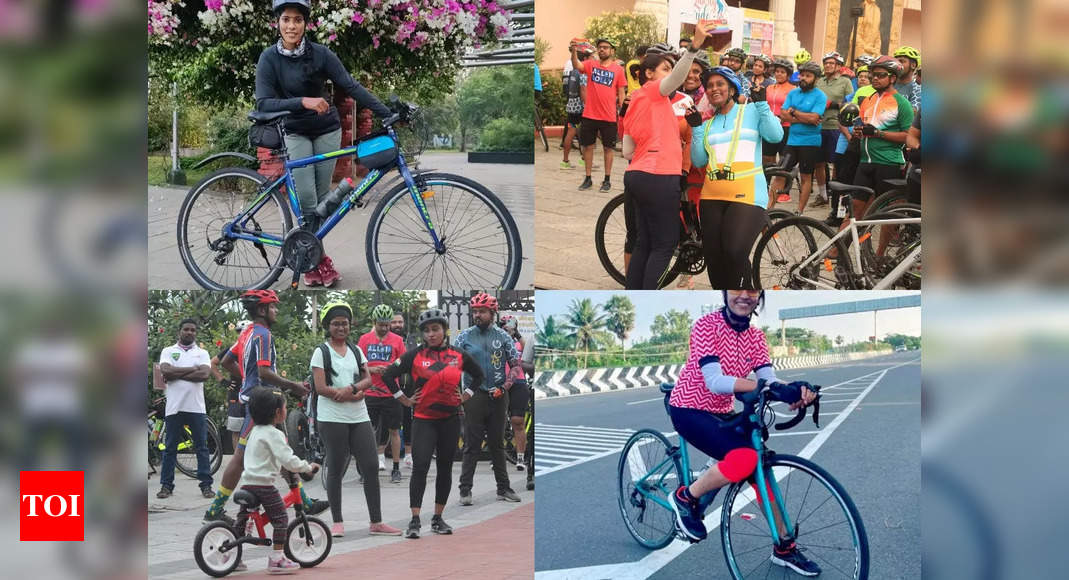 Cycling may have garnered a lot of interest during the pandemic, but regular cycling on city roads comes with its own set of safety and logistical issues, especially when it comes to female cyclists. Liberty Ride, a recent cycling event in the city, held on the sidelines of International Women's Day, aimed to blur the lines of the gender binary in cycling, while raising awareness of the need for safety among female cyclists.
Organized by the city-based cycling group We are Chennai, the event saw over 250 cyclists – mostly women – take part in a 25km early morning ride, celebrating sisterhood and what it means to be a cyclist female in the city. Cycling, for health consultant Deepa Chaithanyan, is a form of emancipation. And the event even served women who wanted to try cycling for the first time, she adds.
The event, which started at two locations – in Anna Nagar and Velachery – ended at Vivekananda House in Triplicane. "It was wonderful to see so many cyclists, especially male cyclists, cheering on their female friends, wives and colleagues while joining in. We saw at least 15+ people joining us as a couple," remembers Deepa.

In recent years, there has been a significant increase in the number of cyclists despite the infrastructure not being suitable for cyclists, she says. Priya Darshini, an avid cyclist, who is also one of the organizers of the OMR-ECR chapter of the cycling group, adds that female cyclists have come a long way not only as recreational cyclists, but also as cyclists. subsistence. However, fundamental problems remain, she stresses.
"We continue to face safety threats on the roads when riding alone. Being molested, intimidated by cars, buses and bicycles are some of the problems we face whether we are just a cyclist sustenance or a high-end speedster. I have personally been a victim of such incidents even in the recent past. We shouldn't have to rely on anyone else for our safety," she says, adding that the gender divide continues to exist in deep and subtle ways.
That aside, road and infrastructure safety remains one of the biggest hurdles for cyclists, notes Deepa. "Our roads have little or no lighting in the early hours of the day. In addition, combating the threat of wrong-way drivers is also a major risk factor. We represent our issues to the authorities, but we have a long way to go," she says.
Felix John, the cycling mayor of Chennai, notes that events like these will certainly inspire women to cycle with confidence. "Compared to five years ago, there has been an increase in women's participation in cycling. But it was not enough. If we want a more inclusive society, communities like these must empower women with such activities. The recognition of women creates a big impact, especially among those who want to make cycling an activity," he says.
Anuja Venkat, a housewife who loves cycling, adds that meeting other female cyclists who share the same passion as her has been an incredible moment. "As a female cyclist, I still don't feel safe going on early morning rides. That said, such events show us how capable and necessary women are in forming a safe community for female cyclists," she notes.
Priya, who is also a content writer, adds that such initiatives should go beyond just celebrating women for a day. "Emphasizing gender equity is an ongoing process, and cycling groups need to ensure that members of all genders have an enjoyable and safe experience on their routine rides. Events like these can be seen as milestones on our journey towards a gender-equitable society, but we have quite not reached the intended destination – an equitable space for cyclists of all genders," observes she.

How to make cycling safer for women in Chennai

1.Application by the police department, such as patrols on empty stretches and unlit streets

2. The state government can support initiatives and incentives to encourage female cyclists

3. Recognition of sellers who use the bike every day, such as couriers

4. Efficient traffic management

5. Redevelopment of busy intersections giving priority to cyclists

6. Introduce separate cycle lanes.

—Felix Jean